Warner Bros. celebrates 90th anniversary with "Wizard of Oz" 3D rerelease, new logo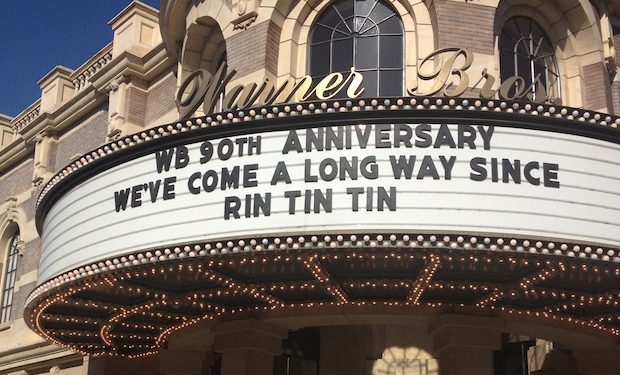 Posted by Terri Schwartz on
On April 4, 2013, Warner Bros. will turn 90 years old, and that's not an anniversary the studio is going to let pass by.
IFC was invited to the Burbank Warner Bros. studio lot where the company held a presentation unveiling its new 90th anniversary logo and announcing some of the many ways it would celebrate the big year. Chief among them are a big transformation for "The Wizard of Oz" and the release of the largest DVD and Blu-ray boxed sets ever created.
The 75th anniversary of "The Wizard of Oz" is coming up so, to honor that, Warner Bros. has been working on converting the project into 3D for an upcoming rerelease in theaters. More details are going to be made available on that over the next three to five months, but Warner executives were really excited about the process.
"Consumers will be able to enjoy that in 3D for the first time next September/October," WB's Jeff Baker said. "It's looking very good."
In addition, a 2D remastered version will hit theaters as well and there will be a "Wizard of Oz" float present in the Macy's Day Parade in both 2013 and 2014.
Now on to those boxed sets. We weren't exaggerating when we said that these were going to be the biggest DVD and Blu-ray releases around. The studio unveiled a giant "The Best of Warner Bros. 100 Film DVD Collection" boxed set which includes properties like "The Jazz Singer," "Ben-Hur" and "The Dark Knight," and a "Best of Warner Bros. 50 Film Blu-ray Collection" which includes films like "Gone with the Wind," "Amadeus" and all three "Lord of the Rings" films. These both also include the new feature-length documentary "Tales from the Warner Bros. Lot," which we saw half of and is really great. The two boxed sets both run for $597.92.
Warner Bros. is all about the boxed sets for celebrating its big birthday. In addition to those two, there will be a Clint Eastwood 40 film collection released (his 38 features plus two documentaries), the "James Dean Ultimate Collector's Edition" (his three films plus three documentaries, a hardcover book and other paraphernalia) for $100, and two "gangster" collections — one featuring "contemporary" classic and one "originals" — that will come out on May 21.
There's also a slew of "20 Film" collections that will come out over the course of the year that will all run for $99. The "20 Film Best Picture Collection" will come out on January 29, "20 Film Musical Collection" on February 5, "20 Film Romance Collection" on April 2, "20 Film Comedy Collection" on July 2 and "20 Film Thriller Collection" on September 9.
And that's still not all (it was a long presentation). "The Dark Knight Trilogy Ultimate Collector's Edition" comes out on September 10 for $69.99 and includes high end collectible premiums, close to an hour of new special features and never before seen memorabilia from Christopher Nolan. There's also a "Mad Max" collection coming out in quarter two of 2013 and an "Ocean's Collection" coming out in quarter three.
There also will be a "Best of Superman TV Collection" coming out in May for $100, a "25 Cartoon Collection: Hanna-Barbera" coming out in May for $27, a "59 Cartoon Collection: Looney Tunes" coming out in July for $27 and a "25 Cartoon Collections: DC Comics" coming out in August for $27. Beyond those, plenty of films are going to be transferred to DVD for the first time with new packaging to celebrate the 90th anniversary.
Our guess is that even more ways that Warner Bros. is celebrating their big birthday next year as we get closer to 2013.
Are you going to pick up any of these new boxed sets for the Warner Bros. 90th anniversary? Are you excited about "The Wizard of Oz" being released in 3D? Tell us in the comments section below or on Facebook and Twitter.