Walton Goggins and Don Johnson make their "Django Unchained" debut in new photos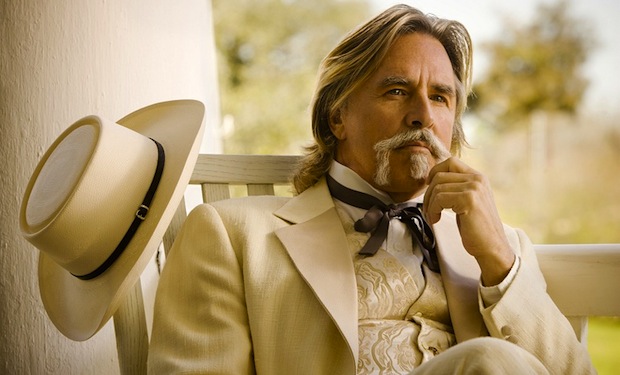 Posted by Terri Schwartz on
Despite the many awesome trailers and photos we've seen from "Django Unchained," there is still much more left to look forward to in the upcoming Quentin Tarantino movie.
That is proven in the new batch of photos that have been released from Tarantino.info (via ComicBookMovie.com). The images introduce the characters played by Don Johnson and Walton Goggins, and also show KKK horse chases, evil Leonardo DiCaprio and plenty of Kerry Washington's Broomhilda.
This is the first we've seen of Johnson and Goggins in the promotion for "Django Unchained." Johnson plays a character named Spencer Gordon Bennet, while Goggins portrays Billy Crash.
Speaking of actors we haven't seen yet, Dennis Christopher recently teased his character to IFC in a recent interview.
"I sort of play the consulary to this very powerful Southern family; the lawyer who tends to all the family business for Leonardo DiCaprio and his sister that live on this fantastic plantation," Christopher said. "We're about the last third of the movie, and, once they get to the plantation, Tarantino does 'Gone with the Wind' all the way."
"Django Unchained" focuses on the partnership of Foxx's Django and Waltz's Schultz. Schultz purchases Django with plans to free him upon catching his quarry, but Django's primary goal is rescuing his wife Broomhilda. Their hunt leads them to "Candyland," a plantation where slaves are forced to fight one another for sport by their owner, Calvin Candie (Leonardo DiCaprio), and his slave trainer Ace Woody (Kurt Russell). It's there that they arouse the suspicions of Candy's most trusted slave Stephen (Jackson) and find themselves marks as they try to get Broomhilda out safely."
Tarantino's latest also stars Don Johnson, Walton Goggins, Tom Savini, Jonah Hill and many more. It's due in theaters on Christmas Day.
Which actor in this movie are you most excited to see? Tell us in the comments section below or on Facebook and Twitter.