The top 10 "Oh Shit!" moments in video games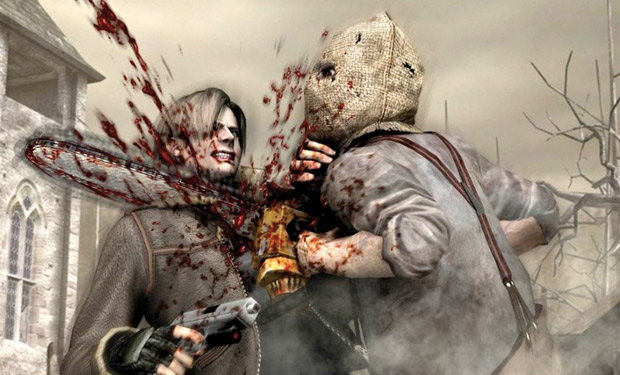 Posted by IFC on
By Adam Rosenberg
Video games may well be the greatest source of "oh shit!" moments in fiction. With movies and television and books you're really just along for the ride, whereas games force you to actively engage with the world around you. As terrifying as it can be to watch as Victim #26 is confronted by a ghostly killer without warning in Horror Movie Sequel #347, the experience strikes on a much deeper level when you yourself are the agent of the unfolding action.
We're taking some time today to look back at some of those classic "oh shit!" moments in gaming. Do these line up with your own favorites? Are there others that hit you even harder? This isn't a definitive list, it's a starting point. Share some of your own favorite "oh shit!" moments in the comments below, and don't forget to watch IFC's "Scared Shitless" back-to-back horror movies every Saturday in October at 8/7c!
---
Dead Island – A most unexpected trailer
The game itself is quite enjoyable, but the top "oh shit!" moment for Dead Island goes to its initial reveal trailer. Essentially a gameplay-free short film, the trailer serves up a brutal scene of a family as they are literally torn apart by a horde of zombies. What's unique about it is the presentation, amounting to a pair of concurrently playing sequences that show the same event: one at normal speed in chronological order and one in reverse that plays in slow-motion, all with a very quiet, calming piano theme playing behind it. Seeing the pieces all fall together in the final seconds is deeply disturbing, and the finished product is one of the best trailers we've ever seen, in this or any other medium.
---
Call of Duty 4: Modern Warfare – Getting shot in the face
Modern Warfare 2's infamous "No Russian" airport shooting might be more horrifying, but it was Call of Duty 4: Modern Warfare that provided one of this biggest "oh shit!" gaming moments of this generation. An early level sees you, a captured and newly deposed leader, shuffled into a car in a nameless Middle Eastern nation. In the sequence that follows, you drive slowly through the war-torn streets until you reach a large, open outdoor space where one of the game's chief antagonists is waiting. Following a brief speech, he pulls out his sidearm, takes aim at your face… and fires. It's a trick that seems so common now, but that Call of Duty 4 level very effectively set our expectations moving in one direction only to bring them all to a crashing halt in no more than the time it takes to pull a trigger.
---
Halo: Combat Evolved – A flood of Flood
Over the years, Halo's "other" enemy — the zombie-like Flood — has transformed from dreadful terror into hated gameplay hook. The puffy, explosion-prone beings may be absent from the upcoming Halo 4's story, but their first introduction in Halo: Combat Evolved amounts to one of gaming's most chilling moments. Master Chief was already lost and stranded on what appeared to be an unusual alien world, but he discovered real terror deep below its surface as the Flood make their series-first appearance in an overwhelming horde. Many look back on that moment now and scoff, but their collective "oh shit!" shouts echo back to us even now.
---
Dead Space – The whole damn thing
Dead Space effectively out-Resident Evil'd Resident Evil. Visceral Games' atmospheric sci-fi horror tale follows engineer Isaac Clarke as he explores a dead spaceship that's been overrun by fearsome alien creatures known as Necromorphs. These twisted beings infect regular people, turning them into nightmare visions that hunt you every step of the way. There are so many moments in Dead Space that make the blood run cold — and in Dead Space 2, for that matter — that it's easier to just point at the whole game and go "oh shit!"
---
Silent Hill – Welcome to horror
There's a different "oh shit!" moment for nearly every flavor of Silent Hill fan, a series built around horrifying imagery and building tension through desperate situations. Really though, it all comes back to those first tentative steps that we all took through the titular town. No one really knew at that point what was to come. The fog. The desolation. The white noise. As open as that environment is, it always felt so alarmingly claustrophobic. It teased you too. The game didn't start with OMG THERE ARE MONSTERS IN MY FACE. It keeps you dangling on the hook for awhile, for quite awhile, before the first hints of nastiness rear up and try to kill you.