Top 25 "Oh Shit!" Moments in Horror Movies (with video)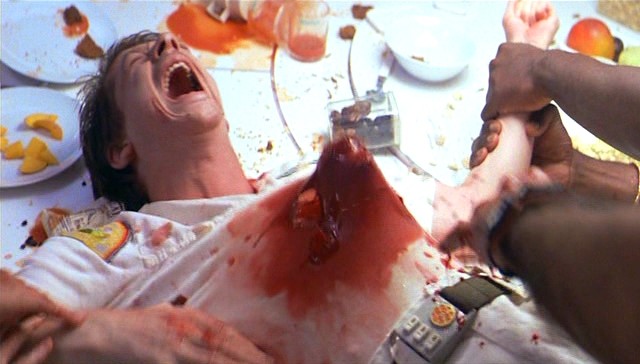 Posted by Bryan Enk on
Here are the jump scares, third-act revelations and just plain crazy moments in horror that made us exclaim "Oh shit!" (or perhaps something even a little bit stronger). Brace yourselves!
---
25. Alien chest burst in "Alien" (1979)
How great would it be to go back to a time before the world was intimately familiar with the "chest-bursting" of the "Alien" movies and see poor John Hurt ruin everyone's dinner for the very first time? How amazing it must've been to be sitting in a movie theater on opening night of Ridley Scott's now-classic sci-fi horror film and see this scene with a crowd that had absolutely no idea what was coming. Due to all of the "Alien" sequels (and the unfortunate "Alien vs. Predator" spin-offs), we now barely even flinch when a "chest-bursting" happens, but back in the summer of 1979, audiences were as speechless as the cast.
---
24. "I know who I am!" in "Angel Heart" (1986)
Sure, you knew that Robert De Niro was the devil the whole time, with or without Mickey Rourke's groan-inducing "Lou Cypher. Lucifer" line. But what you probably didn't know was that Johnny Favorite, the long-lost musician who owes his soul to Satan, and Harry Angel, the seedy private investigator hired by the Prince of Darkness himself to track Johnny down, were the same person. This final revelation forced a considerable re-evaluation of all the film's previous events – and certainly made that crazy sex scene with Lisa Bonet even more gross and a lot less hot.
---
23. Ending of "The Blair Witch Project" (1999)
What is this house? Who lives in it? Why won't Michael respond to Heather's cries shortly after disappearing from her view? Oh my god – why is Michael facing the wall … kind of in the way described in that earlier story we heard? Oh my god, why did Heather fall down? HAS THE WORLD GONE MAD? So much for sleeping a wink during the second half the summer of '99 … and, for some, beyond.
---
22. Sink kill in "The Blob" (1988)
"What is this?" It's the Blob, you fool! The underrated 1988 remake of the '50s B-movie creature feature had the benefit of being a product of the go-for-broke '80s, a decade in which horror filmmakers didn't let limited resources (no CGI yet) keep them from exploring the most over-the-top indulgences of their twisted imaginations. Because of "The Blob," we all know that the best thing to do if a sink is clogged is to walk away … to the next town. Bonus bit: Kevin Dillon exclaiming "Don't touch him!" upon witnessing the poor dude getting sucked down the drain. Don't worry, fella – we won't.
---
21. Basketball kill in "Deadly Friend" (1986)
Anne Ramsey's gig in-between "The Goonies" (1985) and "Throw Momma From the Train" (1987) was Wes Craven's hey-why-not B-movie that feels like one big decompression from the fact that his "Nightmare on Elm Street" has become a series dictated by box office success and not by his own creative control. "Deadly Friend" stars Kristy Swanson as the murdered girl next door brought back to life by via a computer brain that used to be inside a robot dog (yeah). Zombie robot girls can do lots of cool things, like throw basketballs really, really hard at people's heads.