Tim Grierson on the Indie Gem "Take This Waltz"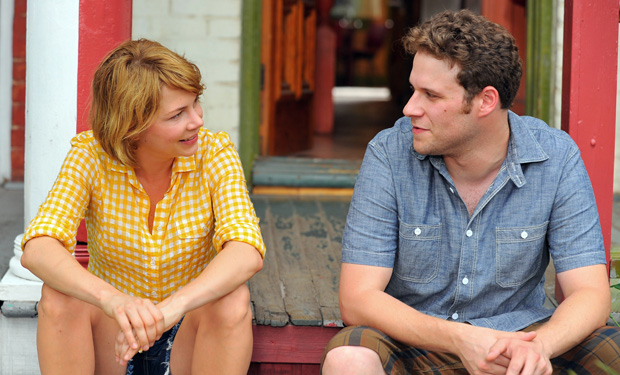 Posted by Tim Grierson on
A few years ago, the Los Angeles Film Critics Association (of which I'm a member) bestowed its annual New Generation award to Sarah Polley. It might have seemed like an odd pick: Polley had been an actress of some acclaim since the 1990s, compelling in everything from "The Sweet Hereafter" to "Go" to the "Dawn of the Dead" remake. But the prize was given to her for her new career, that as the director of "Away From Her," the elegant 2007 romantic drama starring Julie Christie and Gordon Pinsent that was based on Alice Munro's short story about an aging couple coping with one partner's encroaching Alzheimer's. Polley had proved herself an extremely gifted presence in front of the camera — what a pleasant surprise that she was just as capable behind it.
The worry about giving out a New Generation award is whether the recipient will be able to live up to his or her early promise. Thankfully, in the case of Polley, her second film as a director, "Take This Waltz," is just as rewarding. You may have missed it during the heat of summer movie season, but it will be arriving on DVD on Tuesday. It's definitely worth seeking out.
"Take This Waltz" is a romantic drama like "Away From Her," but this time around she's focusing on characters closer to her own age. And she's not adapting another writer's work this time — "Take This Waltz" is an original screenplay, one that concerns a romantic triangle in which there are no clear good guys or bad guys. Polley offers no simple solutions for either her characters or the audience.
The movie stars Michelle Williams as Margot, a young woman living in Toronto who approaches her 30th birthday with some trepidation. Yes, she's married to a loving, sweet guy named Lou (Seth Rogen), but their adorable life together doesn't leave her fully fulfilled — a fact we pick up on when the movie opens and she's flirting with an artist named Daniel (Luke Kirby) while out of town on a quick trip. It seems like a passing sensation, nothing more, but she quickly discovers that she and Daniel live on the same block. She shouldn't hang out with him once she gets home, but, well, she likes the guy's company.
Their relationship, which is actually just a friendship, serves as the heart of "Take This Waltz," and Polley never fully suggests what Margot should do: dump her husband or tell Daniel that nothing can happen between them. The movie quite confidently resides in an ambiguous middle ground, which shifts the emphasis toward Margot rather than the two men in her life. As Polley makes clear, Margot isn't really choosing between Lou and Daniel: She's picking between different futures, different mindsets, different paths to follow. In other words, Margot is really trying to figure out who she's supposed to be, and "Take This Waltz" can be achingly poignant in its portrayal of this bright but lost young woman.
This isn't to say that "Take This Waltz" is flawless. In their attempts to show Margot's confusion, Polley and Williams sometimes risk turning the character into a self-absorbed, overly cutesy pushover. And the film sometimes meanders. But those defects have a way of becoming strengths, giving the story a relatable messiness that's in keeping with the characters' unfinished, hesitant lives. And Williams's co-stars are great. Kirby steals the movie and has received the lion's share of the praise, giving Daniel a sensual, sensitive magnetism that's hard to resist, but Rogen's role is in some ways trickier. He's stuck playing the nice-guy husband, but he and Polley make him a fully developed character, alternately loving and irritating in a way that those closest to us can be.
Perhaps it's impossible to transcend the clichés of the romantic-triangle storyline, but you have to give Polley credit for the sincerity and insights she brings to a seemingly familiar scenario. It's a sign of this film's smarts that even at the end I wasn't entirely sure if Margot had made the right decision — I feel pretty positive Polley isn't, either. Like few movies, "Take This Waltz" understands that not many people find that one perfect soul mate — instead, it's a question of making certain compromises to find happiness. If you're not careful, this movie can break your heart. And after seeing it, you may have a hard time hearing the Buggles' "Video Killed the Radio Star" without getting a little melancholy.