Tim Grierson on the Frustrations of Being a Kevin James Fan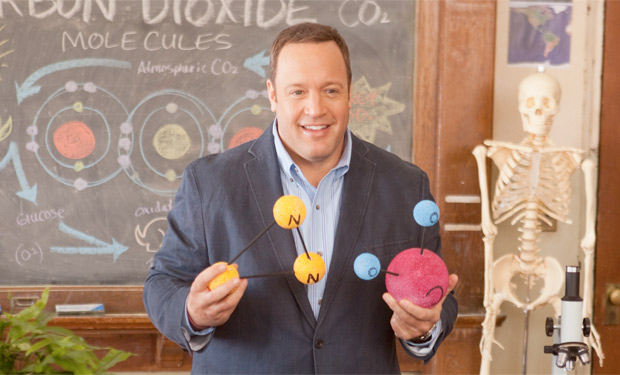 Posted by Tim Grierson on
This past weekend, the comedy "Here Comes the Boom" was a critical and commercial disappointment, receiving generally dismissive reviews and ending up a lowly No. 5 at the box office. The poor notices weren't a surprise, but the poor grosses were. "Here Comes the Boom" is the latest vehicle for Kevin James, who in the last few years has established himself as an emerging star. Lovable and sweet where other comics are hip or crass, James has carved out a niche for himself as a likable everyman. I've enjoyed him in just about everything he's done on film and in television. Unfortunately, I've almost never enjoyed the projects themselves.
James grew up in Long Island and first made his name as a standup, making observational humor that often poked fun at his own foibles. His persona was that of a well-meaning doofus, an image that was enhanced by his plus-size figure and soft features. This regular-guy demeanor soon translated into a recurring role on his friend Ray Romano's sitcom "Everybody Loves Raymond." And from there, James got his own show, "The King of Queens," which transplanted his "Raymond" character Doug Heffernan into its own universe.
Though the show ran for nine seasons, "The King of Queens" was never much of a critical favorite. (It received exactly one Emmy nomination, for James for Outstanding Lead Actor.) And while it was certainly a formulaic sitcom — even casting Jerry Stiller, who had been part of the "Seinfeld" juggernaut, as James's Frank Constanza-like father-in-law — it was boosted by its star's utter naturalness as a working-class delivery driver. At a time when so-called "blue-collar comedy" in the form of Jeff Foxworthy and Larry the Cable Guy was playing into cultural stereotypes and parading its redneck bona fides, Doug didn't seem to have a political agenda: He was just a nice guy who loved football and got annoyed by the same things we all do.
And while "The King of Queens" definitely followed the formula of pairing an average-looking comic with an impossibly beautiful wife, James's show shook things up a little by having Doug's wife (Leah Remini) not be the calm, rational one who had to put up with her husband's crazy schemes. Instead, she was often the ambitious, irritable one that he had to calm down, creating a good-cop dynamic that James would continue to exploit when he transitioned into film.
By 2005, he had already appeared in Adam Sandler's "50 First Dates," but it was in "Hitch" where he first showed his potential as a film actor. Perhaps importantly, he wasn't the lead, instead playing the charming, understated second fiddle to Will Smith's charismatic, cocky love doctor. By comparison, James was a mild-mannered executive trying to woo the gorgeous Amber Valletta. In real life, a guy as timid as James would never land such a beauty, but his innate sweetness made this proposition, at least in the fluffy world of romantic comedies, at least seem plausible. "Hitch" wasn't much of a movie, but James was a charmer.
Afterward, James moved on to "I Now Pronounce You Chuck and Larry," where he co-starred with Sandler. As on "The King of Queens," he was the nice guy in contrast to Sandler's homophobic, babe-hound character, playing a kind-hearted widower who just wants to take care of his two kids. Whether you thought "Chuck and Larry" was a groundbreaking commentary on gay relationships or just a crude Sandler comedy, James's character's undeniable decency gave the movie its emotional center.
With James now firmly entrenched in the Sandler camp, I was hoping he would be able to do better as a leading man than other Sandler pals like Rob Schneider and David Spade had fared. Unfortunately, his first starring role, 2009's "Paul Blart: Mall Cop," was an utter abomination — the sort of juvenile, lowest-common-denominator misfire that movie studios dump in January that they just want off their slate. I assumed it would bomb and would hamper James's career. Shows you how good my box-office prognostication skills are: "Paul Blart" was a huge hit, winning two straight weekends and ending up with more than $146 million. James co-wrote "Paul Blart," but the "Die Hard"-in-a-mall premise didn't do enough to emphasize his sweetness or his sneaky slightly-skewed-ordinary-guy essence. As someone who had been a fan of his for a while, I suppose I was happy for James's success, but, seriously, the endless fat-guy jokes of "Paul Blart" didn't make me optimistic about his future.
My attitude didn't change with subsequent films. In "Grown Ups," "The Dilemma," and "Zookeeper," it's been more of the same, with James's likable presence overshadowed by broader, louder costars or, in the case of "Zookeeper," by talking animals voiced by the likes of Sandler, Cher and Sylvester Stallone. The reviews for "Zookeeper," his second solo starring vehicle, were just as brutal as they were for "Paul Blart," but the movie made about half as much money, perhaps a signal that audiences were tiring of James. I could understand: The modest charm of his earlier roles had calcified into a nice-guy shtick that wasn't nearly as enjoyable when it was forced to shoulder the burden of miserable dreck all by itself.
That's why I'm most disappointed with the lukewarm returns for "Here Comes the Boom." While it's not a film I'd recommend, it's the first time James has been the leading man in a movie that clearly plays to his strengths. As with "Paul Blart" and "Zookeeper," he co-wrote "Here Comes the Boom," and he's hit upon a timely premise. Scott Voss (James) was once a dedicated high school teacher who has grown complacent and lazy over time. But when an older teacher (Henry Winkler) whom he admires discovers that his music program is going to be cut due to budget restraints, Scott decides to become an MMA wrestler to win enough money to save the program.
James has always poked fun at his own beefiness, which has made his surprisingly graceful moves all the more delightful. (The highlight of "Hitch" is probably watching James dance.) "Here Comes the Boom" utilizes this juxtaposition to good effect as Scott convincingly goes toe-to-toe with professional MMA fighters: He's big enough but also swift enough to play the part. And while the movie is a paint-by-numbers sports film, James knows how to be lovable without seeming needy or cloying about it. Like too many of the movies he's associated with, though, "Here Comes the Boom" is only tolerable because of his presence, and you wonder if he's not ambitious enough to do better or if he's happy starring in mediocre Hollywood product. I still think the guy's got potential — but sometimes I'm not sure if he sees that potential in himself.