Tim Grierson on Being a Reformed Horror-Movie Wimp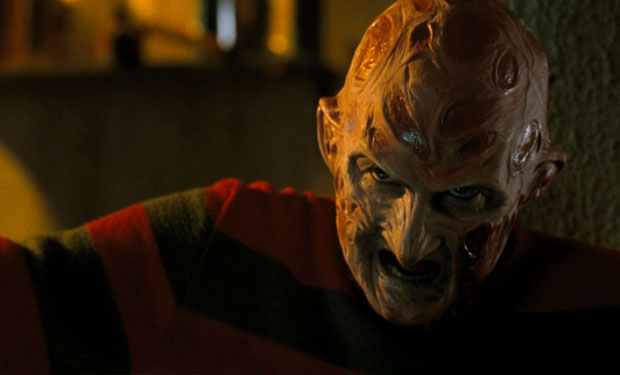 Posted by Tim Grierson on
It's Halloween time, which means you've probably seen plenty of those "Scariest Movies of All Time" lists pop up on the web. Looking at the movie titles on those countdowns, you probably remember the first time you saw them, maybe as a kid during a sleepover with a friend when you were probably too young to handle it. Or maybe it was in a packed theater with your buddies, all soaking in the scares together. Not me. I've seen most of the top horror movies, but only as an adult. You see, I was a scaredy-cat as a kid.
For a lot of red-blooded American boys (and girls), seeing horror movies is a rite of passage: They're another way to prove that you're tough and cool and not some baby. I never went through that phase as an adolescent — I guess I was just a sensitive kid, and the idea of watching slasher movies and being exposed to tense situations in a dark theater just wasn't all that appealing. (I also didn't ride roller coasters. Yeah, I was that kid.) Other young people had a natural curiosity about experiencing terrifying things — I just never did. In fact, I didn't see my first horror movie until I was 16, and even then it wasn't my choice. It was a double date, and I tried hard to convince everybody else that we should check out "Dead Again," the well-reviewed Kenneth Branagh thriller. I got outvoted, and off to "Freddy's Dead: The Final Nightmare" I went. I hated it — not because it was scary but because it was terrible. I was pretty convinced that my lifelong aversion to horror movies had been well-founded.
But I knew that wasn't going to be the end of it. I was going off to film school, and if I really wanted to have a career in the movies, eventually I'd have to start watching horror flicks. Much to my relief, once I started watching them in classes … well, I can't say I became an instant fan, but I did start to develop an appreciation for them. Growing up as a budding film enthusiast, I tended to prefer dramas and other "serious" movies, deciding that they were somehow "superior" to comedies or action blockbusters or horror films. (Looking back, I realize that the 15-year-old version of myself had the same prejudiced mindset as your typical Oscar voter.) But in film school, I began to understand how horror movies often reflected (or capitalized on) the real horrors of their times. How "Night of the Living Dead" spoke to the paranoia and confusion of the Cold War/Vietnam era. How David Cronenberg's remake of "The Fly" could be seen as a parable about the fear of AIDS. But perhaps most importantly of all, I came to recognize that, done well, horror movies were as "meaningful" as any other type of film, whether it be the psychological horror of "Rosemary's Baby" or the haunted-house suspense of "The Innocents." These revelations ought to have been obvious, but for me they weren't.
Not that I suddenly became a horror fanatic: Those movies had their place, sure, but I didn't rush out to see the latest installment of this or that horror franchise. But even if I wasn't all that passionate about those kinds of movies, I wasn't done with them. When I started reviewing movies, I'd work for outlets that would assign me the films that other people didn't want, which was understandable since I was the low guy on the totem pole. And so I ended up at a ton of horror screenings. Most of them were bad — I've blocked out the titles — but the weird thing was, I usually had a pretty good time watching them. Partly, this was because I was just starting out as a critic — since this was the job I'd wanted since I was a boy, each assignment was incredibly exciting — but, also, I started to gain an appreciation for how hard it is to make a good horror movie. Not unlike comedies, which are constantly trying to elicit laughs, horror films are working to get a visceral reaction out of you. If you're just sitting there passively watching the screen, the movie's not working. I realized how much pressure that was on a filmmaker, and so I found myself weirdly intrigued seeing how the director went about trying to freak me out.
But another major component, I must admit, is that I still carried around with me that feeling of what it was like to be a scared little kid — a sensitive boy who was afraid that horror movies would be too rough for me. If you talk to psychologists, they'll tell you that one of the reasons why people love horror movies is because they get to experience the sensation of being terrified in a safe environment. You shriek or sweat or feel your heart pound, but you don't have to worry about dying — when it's over, you go home without a scratch on you. (Same thing with roller coasters: We put ourselves in harrowing circumstances without the anxiety of real consequences.) When I was young, there must have been a part of me that wasn't convinced I'd escape unscathed. I think I was afraid of what being scared would feel like and what it would say about me — that I wasn't tough or cool or manly enough. And yet, here I was as an adult, reviewing horror movies — and I never died once.
Nowadays, I still review some horror movies, and my colleagues are always a bit surprised when I'm not dreading going. Most adults I know in general — and critics in particular — hate horror movies. They find them immature, tedious, badly made and predictable — and, for the most part, they're right. But there are times when there's a good horror movie, like the recent "Sinister" or the "Paranormal Activity" series, and it gives you an experience that's like nothing else at the movies: You genuinely and unreservedly get scared. Everybody else, who grew up watching horror movies, has probably become a little blase about that sensation now that they're older. Me, I feel like I'm making up for lost time.