Tim Grierson on the LCD Soundsystem Documentary "Shut Up and Play the Hits"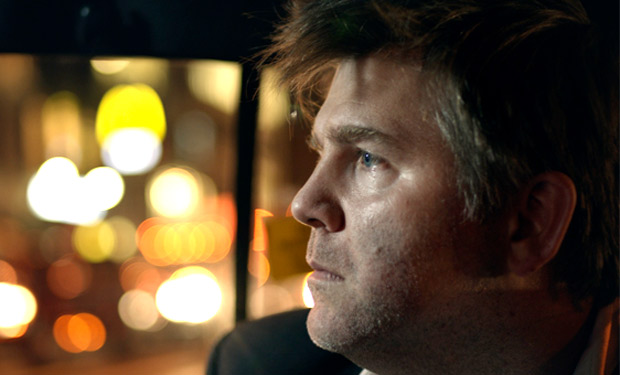 Posted by Tim Grierson on
One of the best things about James Murphy, the leader of the dance-rock group LCD Soundsystem, is that he never looked the part of a rock star. A musician and DJ, he's a burly guy in his 40s with plenty of gray hair and a kind, doughy face. If you didn't know who he was, you'd assume he was a journalist or a writer of fan fiction — he just looked too nerdy and, frankly, normal to lead a band.
Watching (and loving) "Shut Up and Play the Hits," the documentary about LCD Soundsystem's final concert, I realized it was Murphy's deceptive normalness that helped make his group's music so special. A man with an acerbic wit and a deep love of music history, Murphy probably understood on some level that LCD Soundsystem (which started up around the turn of the century) really didn't fit in the current landscape, no matter how beloved and critically acclaimed they were. When he decided to retire the band with some shows in New York City — culminating in a three-and-a-half-hour finale April 2, 2011 at Madison Square Garden — he was ending LCD Soundsystem's run prematurely by choice. He wanted to go out on top, which is a laudable decision at a time when so many artists of all different stripes want to milk their notoriety for as long as they can. But as "Shut Up and Play the Hits" demonstrates, that doesn't mean it was an easy decision — or even necessarily the right one.
The movie, which comes out on DVD on Tuesday, is structured somewhat like "The Last Waltz," the seminal 1978 concert film that chronicled the final show of the Band. Like in that documentary, "Shut Up and Play the Hits" cuts back and forth between performances from the final concert and interviews with the artist as he muses about his own legacy. But "Shut Up and Play the Hits" in some ways cuts deeper because of the close proximity between Murphy's offstage moments and the show itself. They include an interview with music writer Chuck Klosterman that happened a week before the final show — which, in fact, was a sort of reenactment/refinement of an interview the two men had done a year earlier but which plays out quite naturally — and footage of Murphy's life the day after the final show. As a consequence, this is a documentary in which the highs of a concert are intertwined with the mundane uncertainty of regular life. One moment, Murphy is playing to a sold-out Madison Square Garden. The next, he's just a normal dude walking his dog and tying up some loose ends. For a guy who only wanted to be, in his words, "New York famous" — known and respected in the music world but not someone beset by paparazzi everywhere he goes — Murphy looks like he got what he wanted out of LCD Soundsystem, returning to being Clark Kent after his stint as indie-rock's Superman. Still, after being Superman, it must be rather odd to just be Clark Kent.
There are plenty of concert films that are little more than fan keepsakes. Peddling a polished form of "insider access," they show snippets of the band behind the scenes, but their real purpose is to ensure one and all that the group being featured is totally awesome and that they have the best fans in the world. In other words, they're just big advertisements that stay on message. There's no question "Shut Up and Play the Hits" follows this formula to some extent — although Murphy didn't direct the film, it appears that he had a certain level of creative control — but filmmakers Dylan Southern and Will Lovelace dig deeper to ponder what it means to quit something you love while at the same time exploring precisely what made LCD Soundsystem a distinctive group. Combining New Wave synthesizers, dance-floor rhythms, occasional punk-rock energy, and self-deprecating, sarcastic lyrics, Murphy's music dared to be brainier and funnier than his hipster contemporaries. But, crucially, it was also more joyous, which comes through loud and clear in "Shut Up and Play the Hits" and its superb live versions of "Dance Yrself Clean," "All My Friends" and "North American Scum." (If you only saw the film in the theater during its limited run, you'll be happy to know that the DVD includes the complete final show.)
There are several cuts to audience reactions during the film — and, in a sign of the band's hip appeal, we even see comedian/actor Aziz Ansari crowd-surfing — but for music that was often self-consciously cool, the crowd loves LCD Soundsystem without apology or irony. At the screening I attended months ago, some people in the theater laughed at the emotionally overwhelmed fans in the movie, perhaps assuming that the film was mocking them. I didn't read it that way. Underneath Murphy's smarts, which are also quite apparent in the offstage segments, there's a sensitive soul — someone we'd usually expect to see behind some turntables or working in a record store who willed himself into becoming a front man, albeit an unconventional one. (Indeed, even when we see him at Madison Square Garden, you can't quite believe that he's the one largely responsible for all that music.) Rock music has been filled with superstars we could relate to because they seemed like regular guys — Bruce Springsteen, John Mellencamp, Dave Grohl — and "Shut Up and Play the Hits" makes it clear that Murphy had the same sort of connection with his audience. In his modest, Bowie-worshiping, literature-loving way, he's just like his fans, albeit immensely talented.
"Shut Up and Play the Hits" is a celebration of that legacy, but it's also a meditation on how nothing lasts — not success, not fame, not youth. However broadly you want to define it, rock 'n' roll has spent its existence trying to deny (or at least delay) that eternal truth, but Murphy's decision to pull the plug on LCD Soundsystem acknowledges that reality head-on. Murphy will one day make music in some other form. (And, as it should be noted, there have been plenty of other bands who swore they were quitting that returned for myriad reasons, some less noble than others.) But this moment in music history is now gone.
That's why the movie's final emotional wallop is so richly rewarding. The title "Shut Up and Play the Hits," which is said by Arcade Fire singer Win Butler sarcastically while on stage with LCD Soundsystem, is a nod to the fact that casual fans pay to see a show so that they can enjoy the songs they know — they don't want to be bothered with chitchat or anything else that gets in the way. But that title is doubly ironic for James Murphy's band. For one, they weren't a group that had a lot of big hits. (Murphy even wrote a song about this in his typically sardonic way.) For another, as strong as the movie's musical performances are, in the end this documentary is about those moments when Murphy isn't focusing on "the hits" but, rather, himself. The film's heart comes from Klosterman asking him what he thinks his group's greatest failure is. It's in that sense that Murphy still can't comprehend what ending his most indelible artistic endeavor will mean to him. Even when "Shut Up and Play the Hits" concludes, the question lingers in the air, but when he finally allows himself to shut up and take it all in, it's overpowering. Rock 'n' roll is often about burning out or fading away. With "Shut Up and Play the Hits," Murphy found a third option: quitting on your own terms. The uncertainty of what happens next for him is as thrilling as any song LCD Soundsystem ever gave us.