The top 10 Captain Kirk moments from "Star Trek"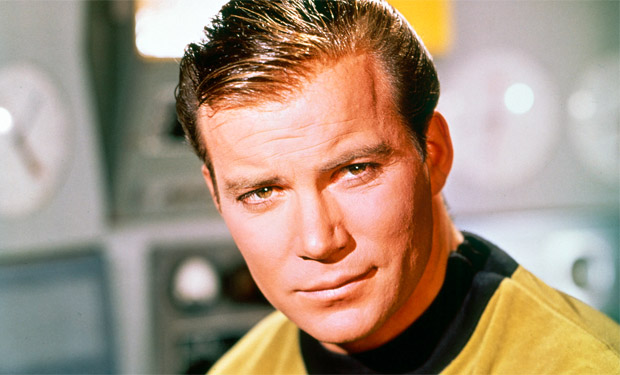 Posted by IFC on
5.– Fizzbin!
Part of what makes Kirk such a terrific leader is his ability to improvise. This is made abundantly clear in the episode "A Piece of the Action" (episode 46,) also known as the one where they dress up like 1920s gangsters with Vic Tayback from "Alice."
When Kirk, "Spocko" and "Sawbones" are being held captive by a buncha muggs, he's able to confuse them all with a card game whose rules he pulls out of thin air. Watching Kirk detail how to play "Fizzbin" is the closest Star Trek ever came to an old Warner Bros. cartoon, and evidence that with all the high tech stuff in the future, you're best weapon is still a big mouth and your noggin.
---
4. "The Corbomite Maneuver"
Not just the episode (number 6, and a great one) but the maneuver itself. Showing the brinksmanship of a true hero, Captain Kirk faces down complete destruction against a superior force and outsmarts it with nothing but the pure art of bullsh*t. When the implacable Balok plans to destroy the Enterprise and will listen to no plea for mercy, Kirk goes all in on a bluff that a reverse-reaction of the secret "corbomite" substance will wreak havoc on the entire area (also killing Balok,) he's granted a reprieve. When we later learn the threat was just baby Clint Howard drunk on something called tranya, well, that just makes it better.
---
3.– Faking out Khan
What you'll learn with Kirk is that he's always thinking three steps ahead of the other guy. He's also willing to make himself be the butt of jokes if it means saving his crew.
The tipping point of William Shatner from cool actor to something of a lovable doofus probably first began with 1982's "Star Trek II: The Wrath of Khan." In that landmark film there was a moment when Kirk summoned all the rage within and shouted KHAAAAAAAAAAAAAN so loudly that it echoed even through the vacuum of space. But dig this: the overacting was in character. He had to bellow and quake with such rigor from deep within the Genesis Cave at Regula that Khan would leave him there, thinking he was forever "buried alive." Of course, he'd already signaled to Spock how they'd escape ("by the book," if you recall) but it would only work if Khan had left the area. Therefore, the ridiculous, over-the-top and cruelly mocked moment is actually a case of Kirk being a tactical genius.
---
2.– "He's a sorcerer, that one."
We'll never be able to decide which is the best Star Trek episode, but most will agree that "Balance of Terror" (episode episode 14) is the most badass. In it, Captain Kirk goes head to head with a Romulan ship whose commander's dying words are "in a different reality, I could have called you friend."
It's his dying words because, even with a cloaking device, Kirk totally pwns his ass. He does it by never underestimating his foe, by firing not where he thinks he'll be, but by where he thinks the other guy thinks no one would ever think he'll be. He also does this while tamping down restless racists among his crew. The best moment comes when, at stalemate, he takes advantage of an unforeseen development, of all things a mistake from Spock (!), but is so quick on his feet he's able to use to confusion to win the day.
---
1.– "He knows, Doctor. He knows."
The greatest action Captain Kirk ever took was to take no action. At the end of "The City on the Edge of Forever" (episode 28), he must allow the woman who may very well be the true love of his life to die a preventable death. If this good person lives, her promotion of peace will stall the United States' entry into the Second World War. (Oh, did we mention this takes place back in time?) As a result, Nazism will conquer the Earth and the future we know the good future – will never happen. For the good of humanity, he allows the gorgeous Edith Keeler to get run over in the street by tackling Dr. McCoy.
"I could have saved her!" McCoy cries out. Clutching the good doctor, face clenched is a devastating mix of anger and sadness, Kirk can't find the words to explain his behavior. "He knows, Doctor. He knows," Spock chimes in, making it the most poignant moment in the history of all entertainment ever in this world and the next.
---
Jordan Hoffman is a regular contributor to Film.com, ScreenCrush and writes the weekly "One Trek Mind" column at StarTrek.com.