The top 10 Captain Kirk moments from "Star Trek"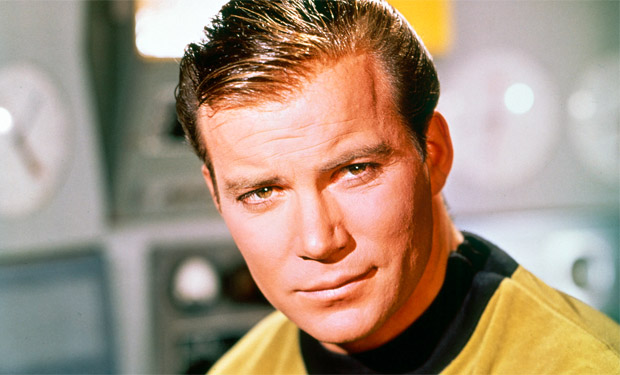 Posted by IFC on
By Jordan Hoffman
When John F. Kennedy pledged to put a man on the moon by the close of the 1960s, this is the man he had in mind. James T. Kirk is an adventurer, explorer, lover, fighter, diplomat, balance between reason and passion and the type of guy who jumps up off a wall to clobber a blue-skinned alien in a hallway fight (see episode 39, "Journey to Babel.")
While William Shatner's recent antics as a low-fare travel pitchman and factory for cheapo basic cable docs may have dulled some of his luster, we can never forget that it was his energy, enthusiasm and charisma the first boldly took us beyond the stars. As such, we opened a few bottles of Saurian brandy and tried to pin down Captain Kirk's top ten moments. Your outraged comments concerning omissions can be sent to us care of Starfleet.
(Are you a Kirk fan or a Picard die-hard? As part of IFC's "Trek Week" we're pitting the two baddest Enterprise captains in town against each other. Chime in with your favorite at #TrekWars on Twitter.)
---
10.– "Risk is Our Business"
Shatner's legendary dressing-down to Dr. McCoy in "Return to Tomorrow" (episode 49) pretty much sums up the Camelot-era optimism of Gene Roddenberry's vision of the future. A briefing room conference turns into a lecture about man's inherent need to climb a mountain because it is there. Yes, there are dangers, but that comes with the territory. "The potential for knowledge and advancement is equally great! Risk. Risk is our business. That's what this starship is all about. That's why we're aboard her."
Alas, he was discussing the transference of consciousness from glowing orbs onto some of the key players on the show, leading to some really dopey scenes with miserable acting. If only the rest of this episode were as great as this memorable speech.
---
9.– Intergalactic Ladykiller
There's much talk about Kirk's interplanetary dalliances. Some of this is more myth than truth, but the facts remain that Kirk could win over just about anyone (or any. . .thing?) with his smile.
Never is his swagger more present than in the (in my opinion) oft-overlooked episode "The Conscience of the King" (episode 13,) in which he woos a young actress to help determine if her father is, in fact, a long sought-after war criminal. "The Conscience of the King" isn't just the first episode of Star Trek to feature a 23rd Century cocktail party (and, oh, man, the music that's playing is fabulous!) but also shows that the Enterprise comes equipped with an observation deck perfectly suited for makin' out. Alas, in this specific case the woman in question later tries to fry Kirk with a phaser at show's end, but no one said romance is without danger.
---
8. Kirk vs. Spock
Much of what makes Kirk great is his relationship with his two best pals Mr. Spock and Bones McCoy. With these alternating angels and devils on his shoulders his true, great personality really shines through. There have been times, though, where his relationship has been challenged, and none so much as when he volunteered to take place in the koon-ut-kal-if-fee ritual when his first officer was in the midst of a Vulcan pon faar. (If these words mean nothing to you, just let them roll over you, it's easier that way.)
Turns out the battle had to be to the death, and soon the two were fighting with some oddball weapons to arguably the greatest action music ever written for television. With the aid of Dr. McCoy, Kirk was able to survive while still honoring Vulcan tradition, but it was still a close call. This lack of foresight explains why this iconic moment (from "Amok Time," episode 30) isn't a little higher on the list.
---
7. The Gorn
There are still many moments of Kirk fisticuffs to celebrate. While the Internet often likes to joke that Shatner versus the giant lizard monster is an "epic fail," they couldn't be more wrong. "Arena" (episode 18) is a carnival of great thrills. It opens with a siege on a colony, followed by a high-warp chase, until both the good guys (Kirk) and the bad guys (the Gorn, a/k/a the lizard monsters) end up on the doorstep of some really high-strung pacifists. Now the two species' leaders must duke it out in the sand using only their cunning as aid. Luckily, Kirk is able to construct a mini-bazooka out of a log, dirt and some Liz Taylor-sized gemstones to best his superior-in-strength foe. If you don't cheer along with the Shat as he mixes up his homemade space gun powder, there is clearly something wrong with you.
---
6.– "What Does God Need With A Starship?"
What's a top 10 list without some controversy? In the truly wretched film "Star Trek V: The Final Frontier" (directed by William Shatner, in pretty much the only time anyone ever let him near a budget this big) there's still a moment that ranks as one of Kirk's best. Perhaps it is so great because it comes at the cost of mocking the rest of the film. Either way, when Spock's evil half-brother puts the Enterprise in a trance and makes them travel to the Galactic Core to visit God (don't ask), Kirk still has the sand to look the Almighty in the eye and say, "hey! I've got a question!"
Turns out this 1989 sci-fi flick didn't have the answers to all of life's mysteries, and the floating blue alien wasn't God. But it took a little Kirk chutzpah to get that out there.