"The Lone Ranger" trailer: Five reasons to watch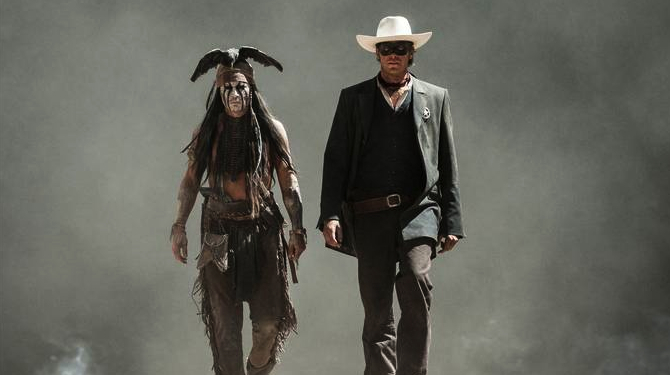 Posted by Terri Schwartz on
"The Lone Ranger" has finally arrived, and it was worth the wait.
The newest film from director Gore Verbinski stars Armie Hammer as the titular character and Johnny Depp as his sidekick Tonto. We've spent the past day watching and then rewatching the minute-and-a-half-long teaser and have decided that there's plenty to love about it despite its short length. We decided the to list off the five elements that have us sold on the movie, and feel free to agree or disagree with our take.
Trains, Trains And More Trains
From the Jerry Bruckheimer Films opening to the final scene of Tonto's daring ride, there are a lot of trains in this film. Hopefully that means there are going to be a lot of train robberies — or at least one good one — because this wouldn't be much of a Western without that element.
Armie Hammer In A Leading Role
Or, at least mostly leading. Yes, we understand that Depp's Tonto will get plenty of time in the limelight, but Hammer is playing the titular character and thus it's Hammer's time to shine. We adored him in "The Social Network" and "Mirror Mirror," and definitely think he deserves all the credit given to him.
The "Pirates Of The Caribbean" Vibe
There are certain elements of this trailer that hearken back to Gore Verbinski's "Pirates of the Caribbean," but in the best way possible. From the glossy landscapes to the heightened and dramatic action scenes, it looks like Verbinski's taken the best elements of those movies and brought them over to (potentially) a new franchise.
The Western Expansion
We don't think we're reading too much into this trailer by saying that it will deal with the American expansion west. From Tom Wilkinson's opening introduction to the constant horse-versus-train races, it's a nice historical touch that Verbinski put into this film.
What's Up There, Kemosabe?
There's no denying that Depp looks fantastic as Tonto. Though he took something of a backburner in this trailer, it's clear that he's going to be able to steal any scene he's in. And we guess we're okay with that.
What did you think of the new "The Lone Ranger" trailer? Tell us in the comments section below or on Facebook and Twitter.