"The Avengers" dominates Blu-ray sales in first week of release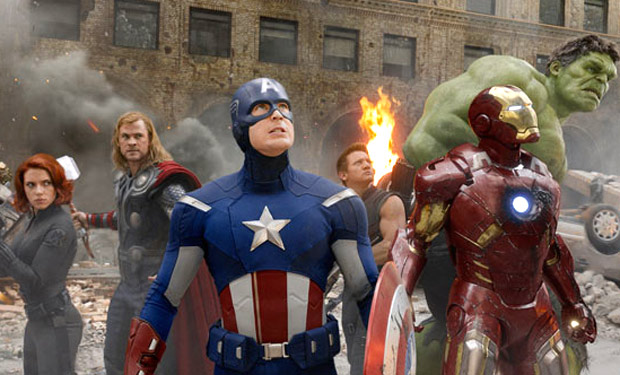 Posted by Terri Schwartz on
All that hype for "The Avengers" DVDs and Blu-rays have paid off. Joss Whedon's superhero blockbuster is the highest-grossing movie of the year and has become a record-breaking home video release as well.
Home Media Magazine is reporting that "The Avengers" "easily topped" Blu-ray and DVD disc sales during its first week of release last week. Of its sales, 72 percent were Blu-ray while 23 percent were the 3D Blu-ray combo pack.
"The Avengers" sold 34 times as many copies as the second DVD on the list, which was Warner Bros.'s "Batman: The Dark Knight Returns — Part 1." We wouldn't be surprised if "The Avengers" keeps up this steady stream of income for the next few weeks.
Meanwhile, there's a whole slew more behind-the-scenes photos that have been updated to the Marvel Second Screen app but you can see over at ComicBookMovie.com. They chiefly focus on Whedon directing his actors, which is something we never get tired of seeing. It's continually clear that those who Whedon works with adore him, and that's a nice sight to see. At least we now know that many of the smiles in "The Avengers" are genuine.
Among the behind-the-scenes images are also some concept photos for the movie and a new featurette. "The Avengers" Blu-ray is in stores now.
Directed by Joss Whedon, "The Avengers" stars Downey, Ruffalo, Evans, Hemsworth, Samuel L. Jackson, Tom Hiddleston, Scarlett Johansson, Jeremy Renner and Cobie Smulders. It came out on Blu-ray yesterday.
Did you buy "The Avengers" Blu-ray? Tell us in the comments section below or on Facebook and Twitter.