"RoboCop" debuts new motorcycle in recent set photos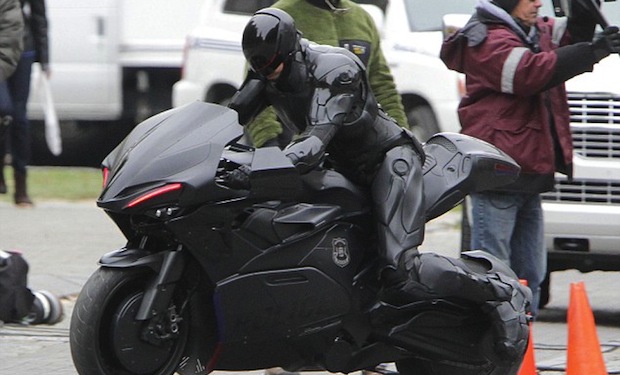 Posted by Terri Schwartz on
RoboCop has got a sweet new pair of wheels in Jose Padilha's upcoming remake.
Daily Mail has some new set photos from where "RoboCop" is filming in Toronto, Canada, and the newest images show that the titular character has gotten an awesome new motorcycle. The ride matches the new suit that RoboCop debuted earlier this year, and generally just looks badass.
We're still a ways away from getting a trailer for the movie, but so far we like what we see. If Padilha's reimagined story for "RoboCop" matches his reimagined look, we'll be pleased.
Directed by Jose Padilha, "RoboCop" stars stars Joel Kinnaman, Abbie Cornish, Michael Keaton, Gary Oldman, Samuel L. Jackson, Jay Baruchel, Jennifer Ehle, Jackie Earle Haley and Michael Kenneth Williams. Here's the official synopsis:
"In 'RoboCop,' the year is 2029 and multinational conglomerate OmniCorp is at the centre of robot technology. Their drones are winning American wars around the globe and now they want to bring this technology to the home front. Alex Murphy is a loving husband, father and good cop doing his best to stem the tide of crime and corruption in Detroit. After he is critically injured in the line of duty, OmniCorp utilises their remarkable science of robotics to save Alex's life. He returns to the streets of his beloved city with amazing new abilities, but with issues a regular man has never had to face before."
"RoboCop" is due in theaters on August 9, 2013.
What do you think of RoboCop's new wheels? Tell us in the comments section below or on Facebook and Twitter.