Exclusive premiere: Sleeper Agent "That's My Baby"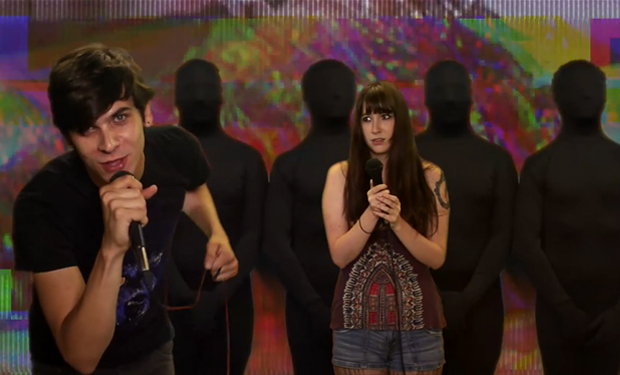 Posted by Brandon Kim on
Sleeper Agent just gave this slow jangle, fan-favorite, the loving treatment it deserved. The band's vocalists Alex Kandel and Tony Smith, perform the song at a karaoke bar with the rest of the band gaping at them with plastic beer cups, and no shortage of trans-dimensional hijinks. Tony Smith (vocals/guitar) also personally took the helm as director.
"The idea came from a lack of sleep and too much time away from home," Smith said of the video, shot this summer in their home town of Bowling Green, Kentucky. "I wanted it to be dreamlike; something that's relatively normal but seems 'off.'"
Smith originally started out with a far more ambitious plan. "It involved time lapse photography, stop motion painting and gremlins (not the Spielberg kind)," he recalled. "Once we figured out this idea was impossible due to time and money, the video was nearly scrapped. Over several cups of coffee, a friend of ours suggested we use karaoke as the backdrop instead of stop motion and time lapse photography and the video was born."
video player loading
.
.
.
Time and money, a believable story, but one can't help wonder if the unhinged, spandex-clad, punching glove, gorilla masked, lunatics he had to work with, were also a factor in changing direction. Either way it was a good call.
"That's My Baby" is off Sleeper Agent's debut album, "Celabrasion," on Mom + Pop, which you can also find here, and here.