Is Big Daddy officially returning in "Kick-Ass 2"?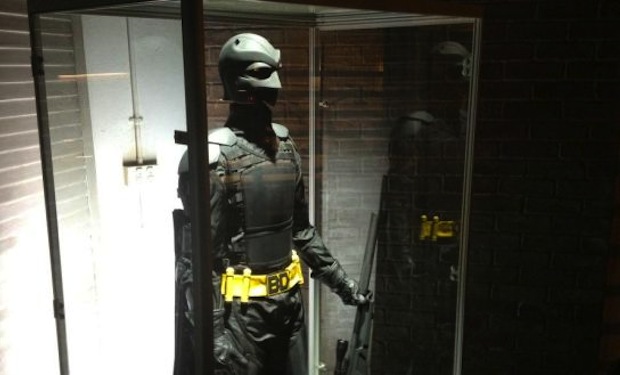 Posted by Terri Schwartz on
Thank you, Jeff Wadlow, for seemingly confirming that Nicolas Cage will return as Big Daddy in "Kick-Ass 2."
This is something we've heard about for a while now, but we always assumed that Cage would have a cameo role in the film. After all, he died pretty definitively in "Kick-Ass." But Wadlow has tweeted a new image from the "Kick-Ass 2" set showing Big Daddy's costume in a glass case.
"Nobody puts Daddy in the corner," he wrote.
The implication here is that Cage is back, but the display could just be something Chloe Moretz's Hit-Girl came up with to honor her dearly departed father. We doubt it though: Cage's name has been associated with "Kick-Ass 2" since May, though it was reported his role would be a cameo. Our guess is that Cage will probably appear in some sort of flashback or dream sequence. Fingers crossed it's more than that.
"Kick-Ass 2" stars Aaron Johnson, Christopher Mintz-Plasse and Moretz. It also introduces Donald Faison as Doctor Gravity, Robert Emms as Insect Man, Lindy Booth as Night-Bitch, Claudia Lee as Brooke, Carrey as The Colonel, John Leguizamo as Red Mist's bodyguard and Morris Chestnut as Hit-Girl's guardian. Directed by Wadlow, it's due in theaters on June 28, 2013.
Are you glad Big Daddy will have a presence in "Kick-Ass 2"? Tell us in the comments section below or on Facebook and Twitter.