Matthew Lillard laments the lost "SLC Punk!" sequel, and how "Fat Kid Rules the World" is an unofficial homage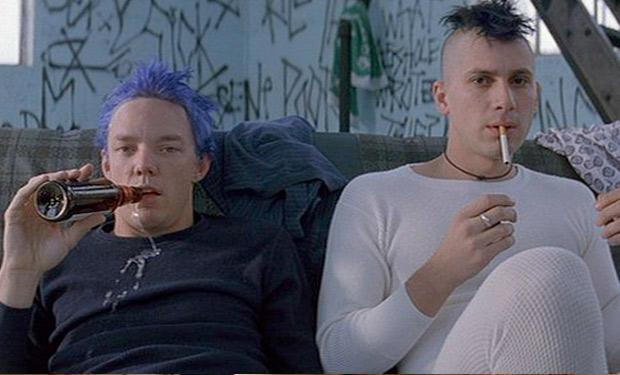 Posted by Brian Jacks on
UPDATED: October 8, 2012 – See below*
In his new movie "Fat Kid Rules the World," director Matthew Lillard plays a high school guidance counselor to a chubby, suicidal student, a bullied, prototypical loser trying to find his own lot in life. The boy, Troy (Jacob Wysocki), is unexpectedly recruited to play drums in an upstart punk rock band, allowing the high schooler to break from his shell and advance towards a more popular, music-aided existence.
But this isn't the first time Lillard has played champion to the voice of the oppressed. Back in 1998, the actor starred in the small-budget indie "SLC Punk!," playing Stevo, a spikey-haired rocker fighting the system amongst Salt Lake City's burgeoning underground scene. The role was a seminal one for both the actor and the underrepresented pool who found the film. Towards the end of the picture, it was assumed Stevo would head to law school to advance his cause from within. But will we ever know for sure which way the character went? If Lillard has his way, we'd be returning to Utah to find out.
"You know it's funny," Lillard told IFC of a potential sequel. "I pitched it and nobody bit. [Writer/director] James [Merendino] didn't bite, and I don't really know where James is right now. The last time anyone saw him he was in Colombia. But I pitched it to producers. Linkletter does that for 'Before Sunrise,' like every ten years he goes back and makes that movie again. I just think there's such a great story to tell there."
We may never know for sure where Stevo's road took him, but if we look at "Fat Kid Rules the World," we at least have an idea.
"The redband trailer [of 'Fat Kid'] ends on me," said Lillard. "I'm in the movie, and I put myself in the movie dressed up as Stevo at the end of 'SLC Punk!' And my name in the movie is Stevo Going. It was a little homage to 'SLC Punk.' In ['SLC Punk!'] it says I'm going to law school to continue the fight and do more damage from inside the system than outside. So I have him as a high school counselor."
According to the filmmaker, "Fat Kid," based on KL Going's novel, isn't so much an unofficial sequel to "Punk!" as it is an homage. And, for a variety of reasons, Lillard sees a lot of his earlier role in his new film. At the end of the day, both characters exist to give voice to those who struggle to find their own.
"I think that they are related," Lillard says of Stevo and Stevo Going. "And I know how much 'SLC Punk!' means to those kids who found that movie. I walk down the street and I have the benefit of running into kids all the time saying 'I love that movie, we found that movie and we watched it a hundred times, it meant the world to me.' So I know that you make a movie with respect about a demographic that nobody cares about, that they'll support it and it's a powerful thing. And hopefully we treat that scene with respect, and those people in that world find it and like that movie. The movie isn't about a fat kid, it's about people on the outside looking in."
"Fat Kid Rules the World" opens in NY today, LA on October 12, with additional cities to follow, and will be available on VOD and iTunes beginning October 25.
*[UPDATE] "SLC Punk!" writer/director James Merendino tells IFC he is in New York City working on a sequel to his 1998 cult favorite. Stay tuned to IFC for more on this story.
Would you like to see an "SLC Punk!" sequel? Let us know in the comments below, or on Facebook or Twitter.