Jamie Foxx is a silver-tongued devil in new "Django Unchained" trailer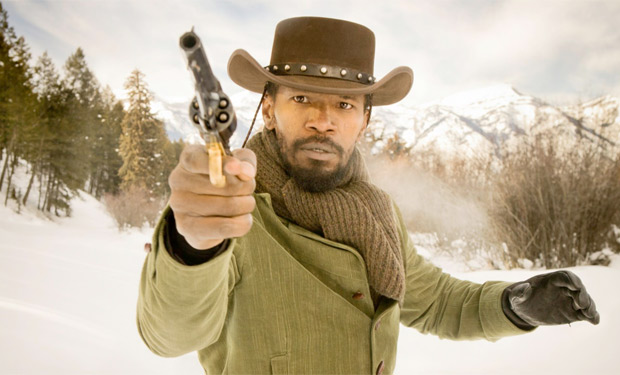 Posted by Terri Schwartz on
Quentin Tarantino is not holding back in "Django Unchained."
A new trailer for the upcoming movie has hit the web, and it shows that there's a lot we haven't seen in "Django Unchained." Since most trailers so far have focused on the relationship between Django and Schultz and Django's mission to save his wife Broomhilda from the evil Calvin Candie, there's a lot of extraneous pieces left to fit together.
One of them can be seen in this new two-and-a-half minute trailer. At long last we've gotten our first look at Jonah Hill, who plays a member of the Klu Klux Klan. It likely isn't a big part, but we can see from the trailer that it's going to be an interesting one.
It's clear that Tarantino is playing all of his actors to their strengths. Jamie Foxx is cold and hard, different than the charismatic comedian we're used to seeing, and he totally pulls it off. Leonardo DiCaprio is finally broken from the "Inception"/"Shutter Island" mode and seems to relish in the ability to let loose a little as Calvin Candie. And then there's Christoph Waltz, who we are pretty sure can do no wrong.
"Django Unchained" focuses on the partnership of Foxx's Django and Waltz's Schultz. Schultz purchases Django with plans to free him upon catching his quarry, but Django's primary goal is rescuing his wife Broomhilda. Their hunt leads them to "Candyland," a plantation where slaves are forced to fight one another for sport by their owner, Calvin Candie (Leonardo DiCaprio), and his slave trainer Ace Woody (Kurt Russell). It's there that they arouse the suspicions of Candy's most trusted slave Stephen (Jackson) and find themselves marks as they try to get Broomhilda out safely."
Tarantino's latest also stars Don Johnson, Walton Goggins, Tom Savini, Jonah Hill and many more. It's due in theaters on Christmas Day.
What do you think of this new "Django Unchained" trailer? Tell us in the comments section below or on Facebook and Twitter.