"Jack Reacher" trailer debuts an intimidating Tom Cruise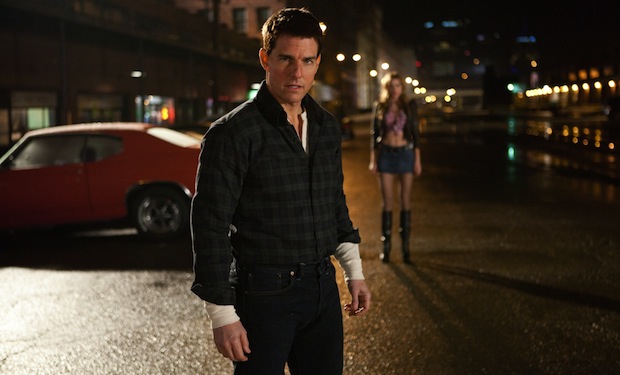 Posted by Terri Schwartz on
If there's one thing you should learn from the "Jack Reacher" trailer, it's that Tom Cruise is not playing a hero.
Fans of Lee Child's "One Shot" will recognize that there have been some changes made to the character of Jack Reacher. Still, Cruise manages to pull off the larger-than-life character with his usual action hero glamor that makes this a project we're dying to see.
Part "Bourne" and part "James Bond," "Jack Reacher" looks like it strikes the right balance between action and suspense while also playing with the audience's perception of the truth. Also, we should note that Werner Herzog plays the villain in this flick, which is downright awesome.
Child recently spoke with Playboy (via /Film) about the decision to have the hulking Jack Reacher from the books be played by Cruise.
"When you transfer a book to the screen, something's going to give. It seems to me there are three essential things about Reacher. First, he's smart. Second, he's still and quiet yet menacing. Third, he's huge," Child said. "It was always likely we were going to lose one of those characteristics. The question was which. For a long time we were fixated on his physique. We had to have a big guy. But we got nowhere. There were no actors big enough who could do even one of the other things. Then it came as an epiphany. Give up the physique and concentrate on Reacher's smartness and quietness."
"Jack Reacher" hits theaters December 21.
What did you think of this trailer for "Jack Reacher"? Tell us in the comments section below or on Facebook and Twitter.