"Iron Man 3" premieres trailer preview and new photos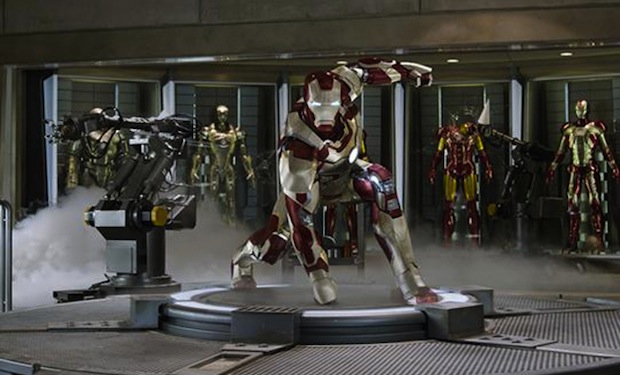 Posted by Terri Schwartz on
UPDATE: Marvel has also released the "Iron Man 3" poster and Entertainment Weekly has debuted the first image of Ben Kingsley as The Mandarin. You can check them out at Comic Book Resources and EW.
When you can't have a full trailer, why not settle for a 15-second preview? That's what we're going to have to do with "Iron Man 3," though the short preview is actually a pretty good replacement for the time being.
The full "Iron Man 3" trailer will be released tomorrow, but for now this 15-second tease is surprisingly exciting. We get a look at Tony Stark's new armor, a quick peak at the back of The Mandarin's head and learn that Pepper Potts will become something of a damsel in distress. We'll be interested to see whether the trailer just elaborates on those plot points or if it will tease some more elements of the film.
There also are an array of new images released thanks to Facebook and USA Today that show War Machine, Pepper Potts and plenty of Tony Stark. The image that steals the show, though, is the one we posted above that shows all of Stark's new Iron Man armors.
"[Stark] basically loses all of his toys and is forced to just use his mind to rebuild and to face his biggest enemy," Marvel Studios president Kevin Feige teased in the USA Today article. "He's ultimately the engineering superhero. He's so charming and so flamboyant that sometimes you forget that's what he is: 'Hey, kids, learn this stuff and you can maybe build an Iron Man suit.'"
"Iron Man 3" stars Robert Downey Jr., Gwyneth Paltrow, Don Cheadle, Jon Favreau, Ben Kingsley, Rebecca Hall, Guy Pearce and Ashley Hamilton. The story is based on Warren Ellis's "Iron Man" comic book series "Extremis." Pearce's Aldrich Killian looks to be the movie's big bad as a co-creator of the Extremis serum, which creates a new breed of supersoldier. He and partner Maya Hansen, played by Hall, opt to place the serum in the hands of terrorists and set them up against Iron Man in order to prove the strength of Extremis. It was announced at San Diego Comic-Con that Kingsley will be playing The Mandarin. "Iron Man 3" will hit theaters on May 3, 2013.
What do you hope to see in the "Iron Man 3" trailer? Tell us in the comments section below or on Facebook and Twitter.