Hugh Jackman and Psy dance "Gangnam Style" on "The Wolverine" set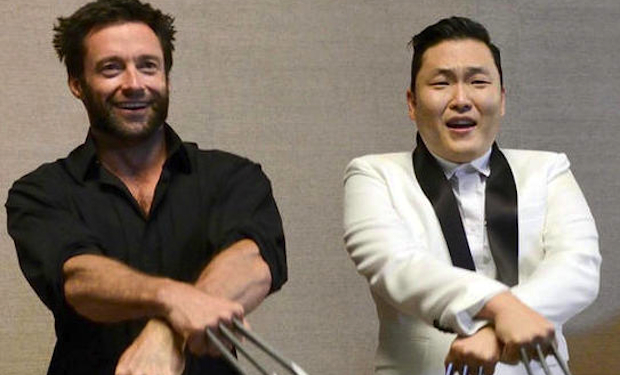 Posted by Terri Schwartz on
We really shouldn't have to explain why this is awesome.
Psy's "Gangnam Style" has infiltrated our culture, and apparently even Hugh Jackman has been charmed by the hit song. The South Korean rapper stopped by "The Wolverine" set in Australia recently and got Jackman to perform the hilarious dance with him.
"Slicing gangnam style!!!! Great to meet @psy_oppa who visited set yesterday," Jackman tweeted.
Psy shared the above photo, tweeting, "Had a great time with @RealHughJackman#GangnamStyleWolverine~!!! lol"
Fortunately someone was smart enough to record a video of them dancing, because sometimes a picture's thousand words aren't good enough. Watch it above and laugh with glee alongside us.
Apparently Psy was in Australia to do publicity for his music, but we hope he made some sort of cameo appearance in the film. Hopefully that the video of the two of them performing "Gangnam Style" at least makes it into the credits. After all, Psy looks pretty good in that tux and those claws.
If Jackman wasn't enough, Psy also made Ryan Seacrest do the dance, and the result is surprisingly awesome. Watch below.
Does Jackman doing "Gangnam Style" officially put it on your radar? Tell us in the comments section below or on Facebook and Twitter.