Get Scared Shitless Saturday with "Scream 3" and "The Exorcist"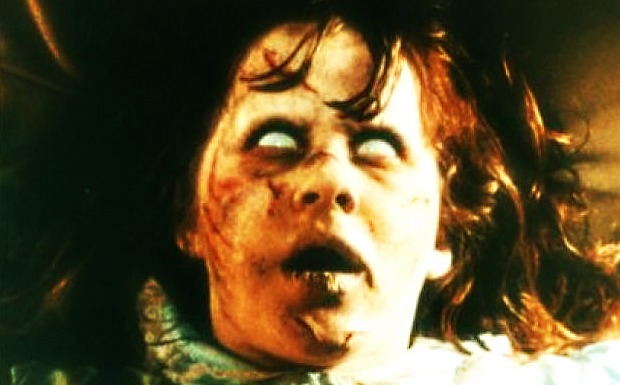 Posted by Melissa Locker on
Brace yourself for terror this Saturday, because it's our last chance to scare you shitless and we're going all out. While the main event starts at 8/7c with the fearsome double feature of "Scream 3" followed by "The Exorcist" at 10:30 p.m. ET, we have a day full of terror to get you in the mood for Halloween.
Beginning at 12:15 p.m. ET we're showing nothing but horror for hours on end. First up is "Tooth and Nail," a post-apocalyptic cannibalistic fright fest at 12:15 p.m. ET. Then at 2:15 p.m. ET we have Oscar-winning director Kathryn Bigelow's "Near Dark," featuring a bored and lonely Oklahoma farmhand who is lured into the clutches of a group of modern-day vampires by the promise of romance and adventure. It doesn't go so well. Then we shift gears into "Maximum Overdrive" at 4:15 p.m. ET where Emilio Estevez plays a truck-stop cook who has to fight off big rigs that were demonized by a rogue comet. The terror train just keeps rolling on with "Open Water" at 6:15 p.m. ET. The valuable lesson you need to take away from that film is this: Don't go in the water, probably ever.
Finally at 8/7c get ready to scream and laugh and then scream again when we show "Scream 3," starring Neve Campbell as she reprises her role of Sidney Prescott, catching up with the unlucky protagonists two years after the events of "Scream 2." Now someone in a Ghostface mask is running amok in Hollywood, killing off the cast members of "Stab 3," the latest chapter in the film series inspired by the events of the "Scream" movies. New players in the game include Parker Posey as a neurotic movie star, Lance Henriksen as an old-school horror movie producer (named John Milton, at that), Scott Foley as a Hot Young Director barely old enough to be out of college and Jenny McCarthy as the token blonde who serves as Ghostface's first on-set victim. Then at 10:15 p.m. ET we trade in the brutally funny for the truly terrifying with "The Exorcist," the scariest movie of all time. Don't say we didn't warn you when you end up hiding under the covers.
Want the latest news from IFC? Like us on Facebook and follow us on Twitter @ifctv.
"Scream 3" airs on IFC at 8 p.m ET; Sunday, Oct. 28 at 1:15 AM ET; and Thursday, Nov. 1 at 1:30 AM ET. "The Exorcist" airs Saturday at 10:30 p.m. ET and on Wednesday, Oct. 31 at 8 PM ET and at 10:45 PM ET