Get "Scared Shitless" on Saturday with "The Devil's Rejects" and "Evil Dead 2"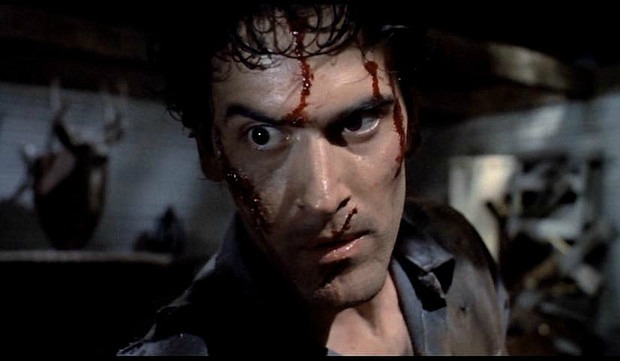 Posted by Melissa Locker on
Are you ready to be "Scared Shitless" on Saturday? Well you'd better get ready, because we're showing Rob Zombie's "The Devil's Rejects" at 8/7c followed by Sam Raimi's "Evil Dead 2." "The Devil's Rejects" is a follow-up to Zombie's 2003 psychedelic horror flick, "House of 1000 Corpses." In this film, he revisits the Firefly clan, a family of oddly likable psychopathic killers, with this '70s-style grind house film. "The Devil's Rejects" is perhaps most worth watching for its grandiose, blood-soaked finale set to Lynyrd Skynyrd's "Free Bird."
After that delightful romp, stay tuned for "Evil Dead 2," because it is, in a word, awesome. What is it about "Evil Dead 2: Dead By Dawn" that makes it so darn good? On paper Sam Raimi's 1987 cult comedy horror film sounds ridiculous. A couple retreats to a cabin in the woods where a recording of the Sumerian Book of the Dead causes an evil spirit to possess the girlfriend and her boyfriend, Ash (Bruce Campbell), is forced to kill her. The next day she re-animates and tries to kill him again. Then his hand gets possessed. It sounds like a cut-rate slasher flick, right? But it's not. Well, it is, but there's just something about Evil Dead 2 that people love. Review aggregator Rotten Tomatoes gives "Evil Dead 2" a 98%; "Casablanca" only got a 97%. Plus, with an Evil Dead reboot slated to hit theaters in April 2013, you may as well brush up on the original, right?
When assessing the awesomeness of "Evil Dead 2" you have to admire the skills of star Bruce Campbell. His performance makes the movie. He manages the perfect combination of earnestness and silliness to make Ash Williams the quintessential hero who will stop at nothing to save his life and, just maybe, the world. Watch this scene where he fights his own hand and tell me he doesn't deserve some sort of award:
Want the latest news from IFC? Like us on Facebook and follow us on Twitter @ifctv.
"The Devil's Rejects" airs on IFC Saturday, Oct. 13 at 8:00 PM ET and Sunday, Oct. 14 at 12:00 AM ET; "Evil Dead 2" on Saturday, Oct. 13 at 10:15 PM ET; Sunday, Oct. 14 at 2:15 AM ET; Sunday, Oct. 28 at 10:00 PM ET; Monday, Oct. 29 at 1:45 AM ET; Monday, Nov. 5 at 10:15 PM ET; Tuesday, Nov. 6 at 2:15 AM ET