Frank Oz and Ellen Greene discuss feeding the need for "Little Shop of Horrors: The Director's Cut"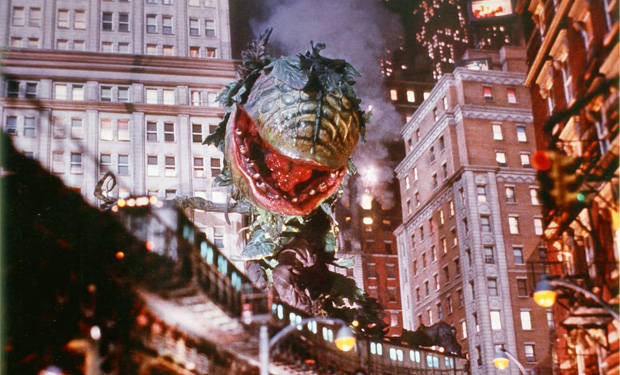 Posted by Rick Marshall on
It's hard to believe it's been over 25 years since director Frank Oz brought the quirky brilliance of an off-Broadway musical about a killer plant to the big screen. Still, a quarter-century later the award-winning "Little Shop of Horrors" is back on shelves with a new "Director's Cut" featuring the original, darker ending of the film that Oz and screenwriter Howard Ashman intended for the film.
While sketchy black-and-white prints of the original ending — which featured an army of massive, man-eating alien plants destroying the world — have been circulating online for years, the Blu-ray features a fully remastered, colored, and otherwise restored version of the ending (and the rest of the film, of course).
Meticulously restored by Warner Bros. Pictures Vice President of Assets & Technology/Post Production Kurt Galvao, the "Director's Cut" of the film offers a cornucopia of features that go a long way toward making the "Little Shop of Horrors" experience just as memorable now as it was back in 1986.
IFC had the chance to sit down with Oz and actress Ellen Greene, who played Audrey in both the original stage production and the movie with Rick Moranis, to reflect on the "Little Shop of Horrors" legacy and their wildly imaginative film's return to the spotlight. Oh, and we couldn't help asking Oz about another green-skinned character he's often associated with, too.
IFC: When you come back to a movie after so many years like this, what's going through your head?
FRANK OZ: I look back on my work and I think, "Oh, why didn't I do that differently?" [Laughs] But mainly I look back and every shot is a memory for me. You guys see what's on the screen, but I see what led to it and I see what happened on the set and all that stuff. But I'm proud of the work. I'm very proud of it.
ELLEN GREENE: I'm just so proud that they did this. To be here and share in the excitement of it all, I'm so proud.
IFC: This version of the film is called "The Director's Cut," so is it safe to assume that this is your preferred version of the film, Frank?
OZ: Yes, it is. Oddly enough, though, I have not been a party to putting it together. Kurt called me about a year ago saying that he'd done this. So I was in L.A. and I went to a screening of it and I thought it was great. They were very true to my notes. They had a black-and-white dupe from years past, which was the template. If I had to do it over again, I would change my notes, not their work. [Laughs] But I would shorten it. They stayed true to it, though. I'm really thrilled because Richard Conway, who spent almost a year of his life on the miniatures at the end of the film only to have me call him 26 years ago and say we wouldn't use them, now I got to call him six months ago and say, "You're going to see them!" That was the thrilling part for me: that people could see his work.
IFC: What about you, Ellen? Is this your preferred ending? As someone who played Audrey for years on the stage with the same ending, it must have seemed a little weird to change that ending for the movie…
GREENE: Well, they said that when they tested it, the audience didn't want Audrey and Seymour to die. And if you notice, the film is a little darker than the stage production. The stage production is a little sillier, with more… Audreyisms, I guess. The death scene in the stage production is funny as well as being sad, but the death scene in the movie as I recall it is not funny. Frank made me more of a heroine. But you know what? I love them all like different children, but if Frank says this is the best version, I believe Frank. And hey, it will be [the best version], because how can you top the destruction of the world as an ending?
IFC: Can you take us back to the moment you realized that you were going to have to change the ending of the story? This had to have been a tough decision…
OZ: Well, both the screenings in San Jose and Los Angeles were fantastic, with the audience applauding after every single number. It was just great until we had the plant eat Rick [Moranis] and Ellen. That was exactly what Howard [Ashman] and I wanted to do to stay true to the stage show. David Geffen said at the beginning that you can't do that, but we asked him to do it and he said, "Fine." He respected us and honored our desire. But he was right, we couldn't do it. And once we knew the audience was angry at us for doing that, we knew what we had to do and how the ending would work. We knew it would grow out of the theme "Somewhere That's Green." We knew that the wish of being somewhere that's green would be resolved at the end of the movie. Howard wrote it and I knew it. We just had to go back and re-shoot it for several weeks. What we actually had to do was not as difficult as the fact that we had to do it.
IFC: Looking back on it, "Little Shop" is such a unique project. Do you think anyone could ever make a movie like it today?
OZ: No. You couldn't make this movie today. First of all, even at that time Warners had a hard time marketing it. It's 14 songs with a plant that talks and people being killed and cut up. How do you sell something like that? No one would take a chance on that now.
GREENE: It's all an act of love, too. What's interesting is that when the stage production began, we were just a bunch of amazing kids creating something for $50 week that was so brilliant. And then Frank came along and equaled or maybe even topped it. Not many people can do musicals, and not only is it exciting and funny and visually amazing, but the casting brilliant and the direction is outstanding, and it's only becoming more and more famous through the years. Both were acts of love, and successful acts of love that stand the test of time. How often does that happen?