Frank Langella explains why "Robot & Frank" isn't your typical buddy movie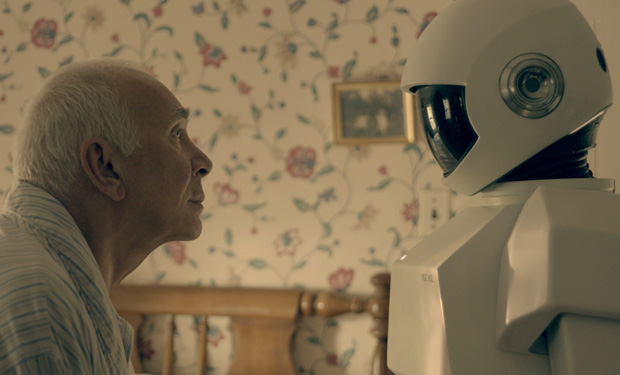 Posted by Rick Marshall on
In his new film, veteran actor Frank Langella plays an aging jewel thief whose life is being stolen away from him by the onset of Alzheimer's disease. When his son buys him a robot butler, his annoyance with his new housemate gradually softens as he learns that the robot could make the perfect parter in crime.
After garnering an award — and quite a bit of positive buzz — at this year's Sundance Film Festival, "Robot & Frank" has been building momentum on the festival circuit for its compelling story, its young director Jake Schreier, and its stellar cast, which includes Langella in the lead role, along with Susan Sarandon, James Marsden, and Liv Tyler.
IFC spoke with Langella about the film, which is set in a future not too far from the present day, and showcases the Oscar nominee's formidable talents as a leading man.
"I couldn't believe a script about an older man with Alzeihemers dealing with a robot would come my way," said Langella of what first attracted him to the film. "It was a script that was minus the usual stuffy CEO, head of a corporation, or 'college professor who doesn't like the young man dating his daughter' kind of stuff."
And even though the robot does a fair share of scene-stealing in the film, it's Langella's portrayal of Frank, the former thief, that makes "Robot & Frank" so compelling. It's a performance made even more impressive by the knowledge that Langella often found himself acting opposite, well… nothing at all.
"[The robot] was in my imagination all the time, so he changed," he explained, indicating that there were many scenes in which the robot was added well after the scene was shot. "There were different voices at different times, and sometimes there was nobody there — he was sort of mocked-up because we didn't have any room or it was too hot to put a person inside him. I fashioned a robot in my mind so I could really play opposite whatever sound I heard."
In the film, Peter Sarsgaard provides the voice of the robot, who helps get Frank's life back on track and help him find something he can get excited about — in this case, planning a heist with his new mechanical partner. While the robot is a reluctant participant at first, his prime directive to get Frank up and active again supersedes any qualms about the criminal nature of their activities.
But rather than slipping into the conventions of your standard buddy movie, the film takes some unique turns that, in the end, were some of the elements that Langella found most appealing about it.
"It didn't [feel like a buddy movie]," he explained. "It felt like a movie about alienation and loneliness and sadness, and human beings trying to find each other."
And possibly most interesting element of all is the darker, underlying theme in "Robot & Frank," which connects Frank's return to a more active, cognizant life with a return to his criminal habits.
"No one's ever mentioned that, but I think it's true," he told IFC when asked about that unusual evolution for a character. "In the beginning of the film, he's disheveled and disoriented and dirty, and there's food all over his pajamas, and he's living in a dirty house. And then the robot comes along and reenergizes him, and gives him some validation, gives him some reason. The fact that he decides as he's coming back to himself to pick up his old habit — which is to be a second-story man — is what I think is so original about the film.
"It doesn't turn into a sentimental buddy movie at all," he added. "The guy doesn't change. He says. 'Oh, I can teach this robot to steal!'"