Five favorite Whitest Kids U'Know sketches as chosen by the Whitest Kids U'Know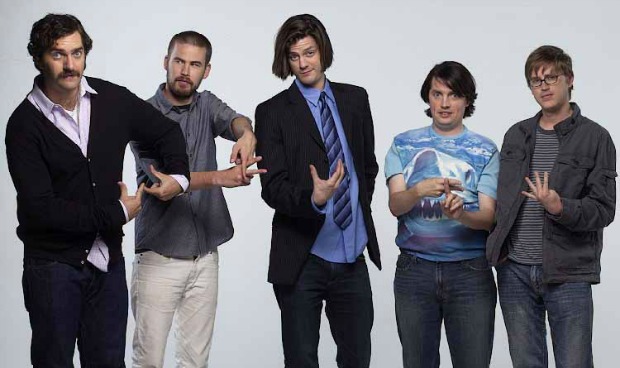 Posted by Melissa Locker on
If you spend much time around these parts, you probably already know and love the irrepressible sketch comedy troupe The Whitest Kids U'Know. If you're new here, the five seasons of the Whitest Kids U'Know were some of the finest, funniest and occasionally crassest comedy sketches we've ever shown on our air. Now, The Whitest Kids U'Know are back on IFC during our DVR-friendly time slot known as The Automat. Check the schedule for details on when we are showing some of our favorite episodes of the Whitest Kids U'Know. For example, tune in tomorrow at 5 a.m. ET to start your day right with an episode of one of the wackiest, filthiest and funniest shows around.
Last year we spoke to the Kids —Darren Trumeter, Timmy Williams, Trevor Moore, Zach Creger and Sam Brown— and asked them about their personal favorite sketches over the five seasons the show was on the air. These are their favorites:
1. Abraham Lincoln
2. Sex Robot
3. The Grapist
4. Baked Beans
5. John Cleese
Want the latest news from IFC? Like us on Facebook and follow us on Twitter @ifctv.
The Whitest Kids U'Know air on IFC's Automat tomorrow at 5 a.m. ET.