Exclusive Premiere: Sassparilla "All The Way In"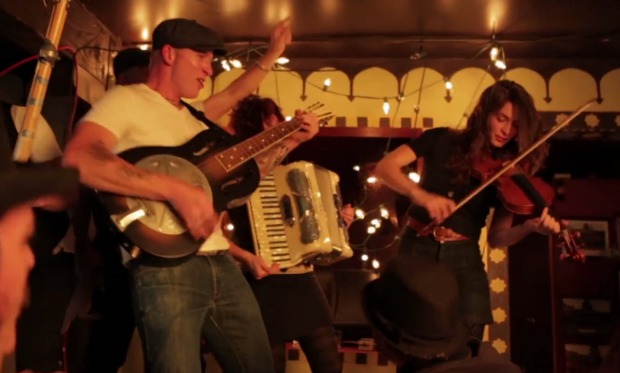 Posted by Melissa Locker on
When it comes to bringing the sound of Americana to life, it's hard to top Portland, Oregon-based outfit Sassparilla. Whether you call them folk-punk or psychobilly or just rockabilly with a seriously Portland twist, Sassparilla makes modern music drenched in a vintage feel. Whatever you dub their sound, the band — Kevin Blackwell (vocals, lead guitar, national resonator guitar), father-son combo Ross Macdonald (harmonica) and Colin Macdonald (bass), Naima (vocals, accordion, washboard), Justin Burkhart (drums), and Ben Stewart (bass) –makes undeniably fun bluesy-folk rock with a punk-sensibility. Their rollicking music evokes bands like Old Crow Medicine Show, The Black Keys, The Pogues, and Mumford and Sons, and like their forebears and contemporaries, Sassparilla lends itself to dancing, whether fueled by moonshine or just a burning desire to move to the punk-tinged bluesy folk.
Their new 9-track collection of rockabilly roots-pop, "Magpie," was released yesterday on Portland-based independent record label Fluff & Gravy Records. Accompanying the new album, the band has created a video for their song "All The Way In." Watch it now:
video player loading
.
.
.
Want the latest news from IFC? Like us on Facebook and follow us on Twitter @ifctv.