Exclusive Premiere: A peek at Typhoon's "White Lighter" album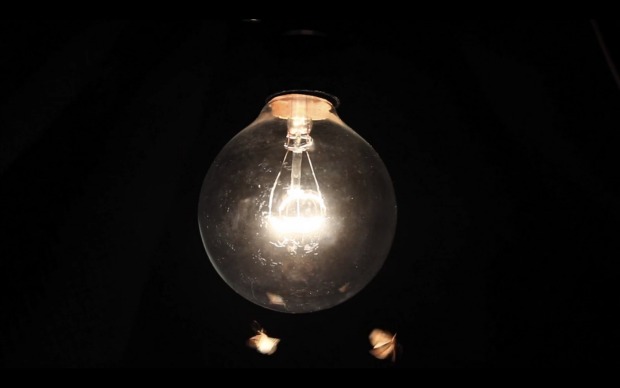 Posted by Melissa Locker on
When you name your band Typhoon, people expect a wall of sound to crash down on them and sweep them away. So it's a bit unexpected when you turn on a Typhoon record and find your self facing something much more subtle and understated. While a typhoon can wreak havoc with one big wave, the band Typhoon is more like a persistent and ambitious stream that breaks down the toughest rock to create an entirely new landscape. But it's hard not to dream big when your band has up to 14 members in it.
The Portland, Ore.,-based band's impressive ranks frequently draws comparisons to other bands with deep membership rolls like Broken Social Scene and Arcade Fire, but there are no extraneous members in Typhoon. Their stage-filling numbers let the group offer up a dynamic sound full of energy, emotive vocals, rising guitars, swelling horns, thumping beats played out on multiple drum kits, with some strings thrown into the mix. The sheer number of instruments in the band allows them to create deep textures that build layer upon layer to, depending on the song, crash down on you or slip away quietly. It's an impressive feat to orchestrate and Typhoon does it well.
The band's second release, a five-track EP called "A New Kind of House," simultaneously satisfied fans and left them wanting more. While the track "Summer Home" alone was well worth the cash, it was still only five songs. Now Typhoon is finally coming back with "White Lighter" and we are happy to premiere the teaser video for the upcoming album. "I've always approached songwriting from a filmic perspective," the band's frontman Kyle Morton said. "In many ways I consider Typhoon as a running sound-track to a fictional, cinematic version of my life. This trailer is a short adaptation of what would be the first scene of this 'cinema.'" It's hard to argue with the notion that Typhoon's songs are cinematic and we're excited to see what stories their new album holds.
Directed by Matthew Thomas Ross and written by Kyle Morton, here's the teaser for Typhoon's forthcoming album "White Lighter":
video player loading
.
.
.
Typhoon Tour Dates:
November 2 The Shakedown Bellingham, WA
November 3 Crocodile Café Seattle, WA
November 4 Rickshaw Theatre Vancouver, BC
November 6 Top Hat Lounge Missoula, MT
November 7 Visual Arts Collective Garden City, ID
November 8 In The Venue Salt Lake City, UT
November 9 Larimer Lounge Denver, CO
November 10 The Carter Payne Colorado Springs, CO
November 11 Low Spirits Albuquerque, NM
November 13 Solar Culture Tucson, AZ
November 14 Sail Inn Tempe, AZ
November 16 The Echo Los Angeles, CA
November 17 Great American Music Hall San Francisco, CA
November 18 G St. Wunderbar Davis, CA
November 20 Wow Hall Eugene, OR
November 23 Crystal Ballroom Portland, OR
Want the latest news from IFC? Like us on Facebook and follow us on Twitter @ifctv.