"Django Unchained" international trailer introduces evil Leonardo DiCaprio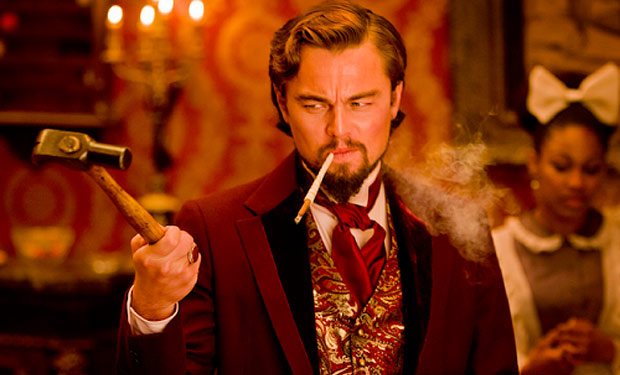 Posted by Terri Schwartz on
Jamie Foxx's Django claims to like the bounty hunting business a lot in the new international trailer for Quentin Tarantino's "Django Unchained," and we've decided we like his new line of work too. This new look at the upcoming movie shows a lot of Django's partnership with Christoph Waltz's Dr. King Schultz, and the scenes where the former slave is training to be a bounty hunter look like they're some of the most fun in the movie.
Django learns his new trade quickly, but it becomes clear that his goal in the film is to save his wife Broomhilda. This movie has a pretty serious love story between the separated couple, and their connection becomes clear in this trailer. But it's also clear just how evil Leonardo DiCaprio's Calvin Candy is. Though we relish every time someone mentions his plantation Candyland (good job, Tarantino), the more we see of the location, the more we realize Candy deserves to be a follow up to Waltz' Hans Landa in "Inglourious Basterds." And that's a terrifying thought.
"Django Unchained" focuses on the partnership of Foxx's Django and Waltz's Schultz. Schultz purchases Django with plans to free him upon catching his quarry, but Django's primary goal is rescuing his wife Broomhilda. Their hunt leads them to "Candyland," a plantation where slaves are forced to fight one another for sport by their owner, Calvin Candie (Leonardo DiCaprio), and his slave trainer Ace Woody (Kurt Russell). It's there that they arouse the suspicions of Candy's most trusted slave Stephen (Jackson) and find themselves marks as they try to get Broomhilda out safely."
Tarantino's latest also stars Don Johnson, Walton Goggins, Tom Savini, Jonah Hill and many more. It's due in theaters on Christmas Day.
What do you think of this new "Django Unchained" international trailer? Tell us in the comments section below or on Facebook and Twitter.