Daniel Gillies and Rachael Leigh Cook premiere independent filmmaking documentary "Kingdom Come"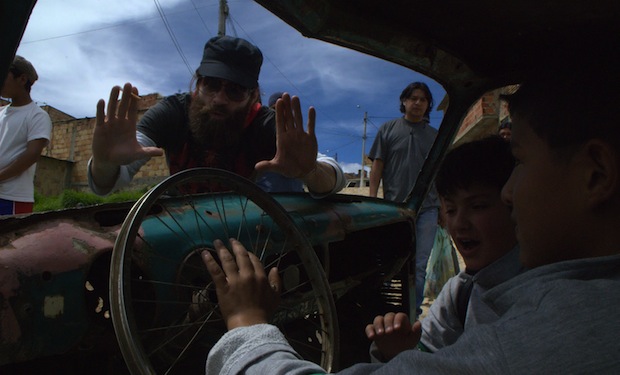 Posted by Terri Schwartz on
It took five years, but finally filmmaker Daniel Gillies completed his first feature, "Broken Kingdom." Gillies is no stranger to the Hollywood scene, having appeared in major roles in "Spider-Man 2," "The Vampire Diaries" and "Bride & Prejudice." But he was new to independent filmmaking, and he decided he would chronicle his experience trying to create "Broken Kingdom" in a documentary called "Kingdom Come."
In addition to showing the struggles he had finding financing for his passion project and the way it affected those closest to him, Gillies called upon fellow filmmakers like Don Cheadle, Mark Ruffalo and Joe and Anthony Russo to discuss their own experiences in independent filmmaking. The movie premiered in Los Angeles on October 2 and IFC was on hand to talk to Gillies about finally showing "Kingdom Come" to the world.
"It's weird. Somebody just asked me, 'Should I be nervous?' and I'm like, 'I'd be nervous if I knew what to be nervous about.' It's just sort of surreal," he said. "We're just launching two movies, it's amazing."
Alongside him was his wife and co-star, "She's All That" actress Rachael Leigh Cook. Cook supported him in the creation of "Broken Kingdom" from the beginning and saw the toll making the movie took on him. As is detailed in "Kingdom Come," it wasn't an easy journey for either of them.
"It's been incredible what I've seen my husband accomplish. I knew he was a strong person, but I don't know anyone as tough as him and I'm just so proud," she said. "That solidified for me that I would have no idea to do what Daniel has done, and nor do I necessarily suggest that anyone should attempt it, and that's why I think this movie is a very necessary and cautionary tale to young filmmakers."
Their friend and fellow filmmaker John Murphy decided to help Gillies with "Broken Kingdom" from the get-go, and the process of trying to bring the movie — a story telling parallel narratives about a school teacher with a secret and an American writer in Colombia — sent him into credit card debt and made him lose his apartment. Because of that difficult journey (he's now living in Gillies' guest house and is out of major debt), premiering "Kingdom Come" was cathartic for him.
"Daniel and I started together as a sort of mechanism to explore this topic that we hadn't seen a documentary about before, and with the changing landscape of independent film, it seemed like it might be a good idea," he explained.
Many of their friends from around Hollywood showed up at the premiere to help support Gillies and Cook. Creating "Broken Kingdom" and "Kingdom Come" was a process they all saw their friends going through, and those actors in attendance expressed pride that Gillies was able to make his dream project.
"My very, very good friends Daniel and Rachael have obviously been behind it for a long time. The film is a great dream of theirs and all of us have seen them work so hard on something that means so much to them," "Inception" star Dileep Rao said. "I just couldn't be prouder. In this business, there's a lot of things that get made just because they have a venality and a utility and that's part of making a business, you know? It's very rare that people take the time out of their careers, really take the time to make something they care about, and I admire Daniel so much for doing that and his heart that he put into that."
"The Royal Today" actress Caroline Carver has known both Cook and Gillies since they shot a movie together called "My First Wedding," and they've been close ever since. She's seen the toll "Broken Kingdom" took on Gillies, and credits him for sticking with the project.
"I've been on this whole epic adventure with them and it's been absolutely amazing and I've got so much respect for them because it's really brilliant what they've done," she said. "I've kind of seen all the blood and sweat. I've seen Daniel going through the whole financing and then the traveling and the nuts and bolts of getting a film, made, which is the most difficult thing in the world, especially when you're actors and you're used to being on the other side. … For me, the kind of behind-the-scenes has been an incredible journey, really."
Producer Cindy Cowan, most recently behind the Cillian Murphy film "Red Lights," said that she thinks independent filmmaking is going to come to the forefront as the Hollywood landscape continues to change.
"I think the business is changing a lot right now. Studios are all about these big Marvel comics and these tentpole movies and so the entire business is changing," she explained. "I think we're going to see a lot more Video On Demand, digital, TV's getting better and better, but the business is changing. It really is."
In addition to creating the documentary to chronicle his process making "Broken Kingdom," Gillies also took another gamble and decided to offer his feature and "Kingdom Come" online for $5 a piece or $8 for both. He allowed fans to buy tickets that would allow them to livestream the red carpet and watch both films from their computers at home so they could feel like a part of the entire experience.
"I'm happy that we're doing it. It's sort of unprecedented," he said. "I kind of like the idea of the democratization of cinema. I like the idea that anyone can be involved.
We're the little guy. We're Rocky, and I like the fact that we're Rocky and I want to celebrate that kind of cause."
Murphy added, " We saw what Louis [C.K.] did and we saw what Aziz Ansari then did. … Theaters don't want little indie films for the most part. It just seemed like [distributing online is] something everybody's going to be doing in a couple of years, and we decided that we wanted to be out in front of that and be a grand experiment and hopefully make something good happen."
Even though "Kingdom Come" shows how difficult, stressful and life-changing a process creating his first feature film was, Gillies ended the documentary by saying he's ready to create his next film. He reaffirmed those sentiments to IFC.
"It's all I think about," he said with a laugh, adding about his next film's tone, "It's not going to be a date movie, let's just put it like that. It's not going to get dark, it's going to begin and it's going to get blacker before the dawn."
Producer and "Goodfellas" actress Illeana Douglas said she understands where he's coming from.
"Making independent movies is like a drug. You want to quit, but it's so hard, but very rewarding," she told IFC.
"Broken Kingdom" and "Kingdom Come" are available online through their official website.
What have been your experiences with independent filmmaking? Tell us in the comments section below or on Facebook and Twitter.