Exclusive: Dan Harmon speaks candidly about "Community" departure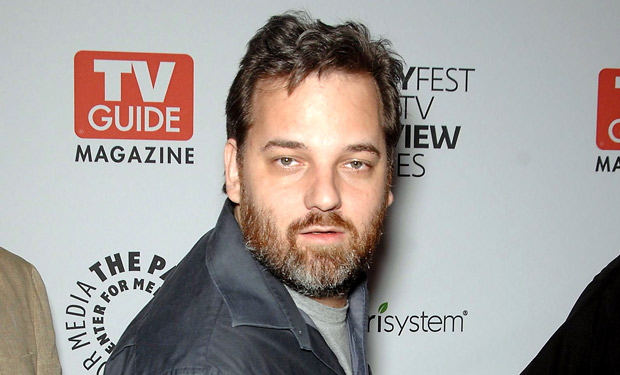 Posted by Terri Schwartz on
Fans of "Community" found it very disheartening when it was announced earlier this year that NBC was going to continue the show without its showrunner Dan Harmon. The critical darling wasn't performing with the numbers the network wanted, and Harmon kept pushing the show farther and farther from the mainstream by having episodes dedicated to obscure films like "My Dinner with Andre" and taking place in multiple timelines. Harmon has been candid about his departure since NBC let him go, but it's clear that he's unhappy that his baby is going to be moving on without him.
IFC had the chance to catch up with Harmon at the red carpet premiere for Daniel Gillies' documentary "Kingdom Come," and we asked him about life after "Community." He signed a TV deal with CBS and was in talks with FOX about a new show back in July, but it's unclear just what those projects may be.
"I haven't really thought about [the new shows] all that hard," Harmon admitted. "My philosophy coming off of the NBC thing is that I'm not going to work quite as hard right out of the gate because working hard in network television, you're not supposed to. You're supposed to delegate and you're supposed to take notes and you're supposed to be diplomatic. I need to prove with my next couple of jobs that I'm capable of working without burning bridges and biting hands and things."
He continued, "That's why I went with CBS and Fox because they're the two biggest networks and I want to do something good and something that's successful and somehow not be the bad guy every day that I go to work. If that doesn't work, I'll immediately dump the third thing and become unlikable again, but I want to see if it's possible to have all three and keep my job and make people happy and do something of quality."
From the sound of those statements, it seemed as though Harmon was talking about maybe toning down his voice in his new television projects. When we asked if that's what he meant, he explained that it's a tricky line to walk.
"That's a really good important question. Obviously if I say, 'Yes, I'm going to try to tone it down,' that would be [a trap]. Not that it's like a 'gotcha' thing, I'm just saying, 'What is the real answer to that question?' What am I saying when I say I want to not get fired or hoist my sails to the wind that's there?" he said. "It's like, I hope that that doesn't involve toning anything down."
As an example, he explained that "Community" was his "earnest attempt to make a mainstream show," so fans shouldn't worry about him "selling out tonally." And even though he's hopefully going to end up on a network whose best comedies are sitcoms, he doesn't think his project will fit with that mold.
"I'm not really able to write 'Big Bang Theory.' If I tried, it would be worse than 'Big Bang Theory.' The guys that are good at that write that, do it well, and then the stuff that I write is going to end up inevitably being like 'Community," Harmon said. "The sad fact is that that's as close to the bulls-eye as I get. Just don't tell CBS that I said that; it may repeat itself all over again. I'll find some way to make it my own, otherwise it will be bad."
"Community" has had plenty of iconic and experimental episodes, from the episode-long paintball fights to the stop-motion Christmas special to our personal favorite: "Remedial Chaos Theory" with its multiple timelines. We asked Harmon which of the episodes were his favorite, and he said there were too many to choose from.
"Since the end of the first season onward, it was all about, 'We're going to get fired every day now, we're going to get cancelled, but it didn't happen today, so what else has anyone else wanted to do on TV for their entire life as a writer?' and whatever the answer was we'd try to find a way to do it up to and including a multiple timeline, which is something I'd wanted to do for a long time," he said. "Ever since I'd seen 'Run Lola Run.' I mean, I'm a derivative writer. You can see online, I posted a text message conversation I had with one of the writers, Megan Ganz, about just watching 'Run Lola Run' a second time and going, 'There's got to be a way to do this sliding doors, video game stop-and-start multiple timelines something.' You can see us hashing it out."
We asked him about the season three episode "Digital Estate Planning," which guest starred Giancarlo Esposito and, like the stop-motion episode, ditched live action to instead be told through the style of a retro video game. It turns out that one doesn't rank to high on his list of favorites.
"That was ridiculous," he said. "I haven't watched that one again because it was just like too far. I know that that was the final straw [with NBC]."
What about season two's "Critical Film Studies," which is largely inspired by "My Dinner with Andre" and "Pulp Fiction" and features Abed's hilarious "Cougar Town" crossover?
"God, that's another one I thought was it," Harmon said, and then continued on to explain why he thinks so many of "Community's" experiments slipped through the cracks. "We were very lucky to be at a network that was sort of in flames the whole time because it was like Beirut wasn't a nice place to live in the '80s but there was a lot of ammunition lying around and people got to do some stuff they had always been dreaming of doing. I think that's what NBC was at that time."
Even with those harsh words, Harmon made it clear that he wishes all the best for the network that sent him away.
"I hope for NBC's sake that the impulse that made [NBC chairman Robert] Greenblatt get rid of me is coupled with an impulse that brings stability and Camelot back, because it is one of the greatest networks, the one that I grew up watching: 'Night Rider,' 'A-Team,' 'Cosby,' 'Cheers,'" he told IFC. "It would be great to see them keep fighting that fight for taste and quality but, I don't know. That's out of my jurisdiction, I have no idea if that's going to happen. I saw a poster with a monkey on it and some guys with BabyBjorns, so it's not looking good."
What do you think about Harmon's comments about NBC and "Community"? Tell us in the comments section below or on Facebook and Twitter.