Chris Gethard does the Carlton holding Ritz at the Ritz Carlton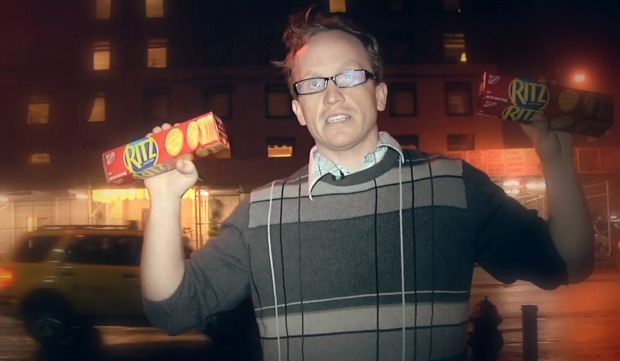 Posted by Melissa Locker on
Do you ever have a great bad idea? One of those hilariously funny, laugh-out-loud wackadoo notions that has everyone cracking up? Cracking up that is until someone suggests that you actually do it? Our adopted comic Chris Gethard knows all about that. You see he was sitting around brainstorming funny video ideas when all of a sudden he hit on a doozy: He would invent a new dance, "The Ritz Carlton." How would he kickstart this craze? He would go to the Ritz Carlton hotel dressed like Carlton from "The Fresh Prince of Bel Air" and dance The Carlton while holding a box of Ritz Crackers and call the new dance the Ritz Carlton. Wacky, wonderful, and completely brilliant right? Yep. That's why we wanted him to do it. Which is not what he was expecting at all.
But one reason we love Chris so much (and were so happy to welcome him into our family) is that no matter how outlandish the idea is, he'll do it (if we make him). So please enjoy the resulting video of Chris Gethard inventing a brand new dance. Feel free to practice along at home and make your own video dancing the Ritz Carlton:
Want the latest news from IFC? Like us on Facebook and follow us on Twitter @ifctv.