Chloe Moretz explains Hit-Girl's mindset in "Kick-Ass 2"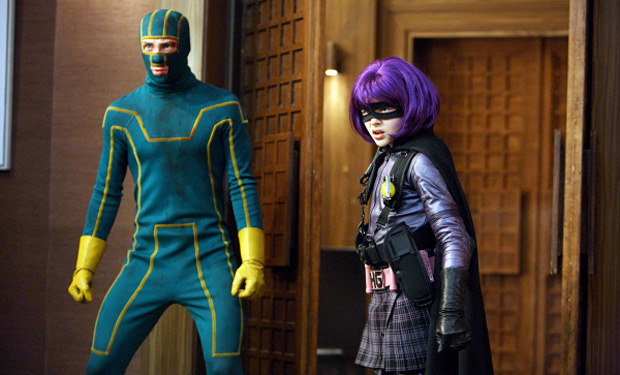 Posted by Terri Schwartz on
Today is a great day for us to obsess over Chloe Moretz. Not only did the young actress wow us in the "Carrie" teaser trailer, but she's also dropped a bunch of hints about what we can expect in "Kick-Ass 2."
In a new interview with Collider (via ComicBookMovie.com), Moretz discussed the way Hit-Girl has changed since we saw her in "Kick-Ass." Apparently she might not be as centered as she was in the last film.
"In the first film, you saw more Hit-Girl, but in this one you're going to see [Mindy] realize, 'God, what was I doing? What am I doing? Who am I? Am I Hit-Girl? Am I Mindy? What is my mask? Is my mask Mindy or is my mask Hit-Girl? Am I supposed to be this normal girl who goes to school and has this great life, or am I supposed to kill people and be a vigilante and be someone who fights crime?'" Moretz explained. "That's what you're going to see, this tug of war between the two minds of her. Between Hit-Girl and Mindy McCready."
She also discussed what fans can expect to see from Hit-Girl in "Kick-Ass 2." We've already had some of her big scenes in the upcoming comic book film teased by Mark Millar, but added some of the elements that she's most excited about.
"You're going to see a lot of cool stuff," she said. "You know, the outfit is much cooler, the hair is cool – purple obviously. You've seen [the set photos]. It's pretty cool — it's rad. There's a lot of [superheroes]. For me, it's really cool."
"Kick-Ass 2" stars Aaron Johnson, Christopher Mintz-Plasse and Moretz. It also introduces Donald Faison as Doctor Gravity, Robert Emms as Insect Man, Lindy Booth as Night-Bitch, Claudia Lee as Brooke, Carrey as The Colonel, John Leguizamo as Red Mist's bodyguard and Morris Chestnut as Hit-Girl's guardian. Directed by Wadlow, it's due in theaters on June 28, 2013.
What are you most looking forward to seeing Hit-Girl do in "Kick-Ass 2"? Tell us in the comments section below or on Facebook and Twitter.