Chloe Moretz is bloody awesome in "Carrie" teaser trailer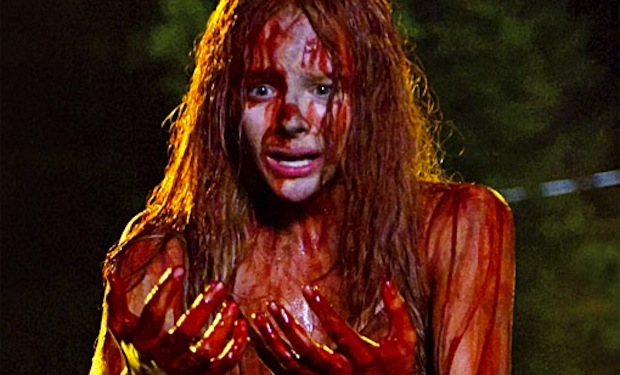 Posted by Terri Schwartz on
There are a lot of classic movies being remade in the coming year, but the one we can't wait to see hit theaters is Kimberly Pierce's take on "Carrie."
The casting of Chloe Moretz as the title character seems pitch perfect, and every image that's been released of her has reinforced our interest in the film. Now we finally have a teaser trailer for the project, and it looks like the movie will deliver.
The trailer opens with an aerial shot over a town that reveals the iconic shot of the gym burning. The camera speeds forward to show that many other buildings are also on fire, while voices start discussing the events that have occurred.
"This was always such a peaceful town" one teenage boy says, while another adult male says, "I don't want to use the word 'conspiracy,' but that's what it's looking like." "Her mother was a fanatic. I don't know how she lived with her," a female voice says, while another man claims, "Something supernatural happened here. It defies logical explanation."
"There's something no one seems to understand," a final voice says. "She wasn't some monster. She was just a girl."
And finally, the money shot: Moretz, covered in blood and surrounded by fire, very much earning her title as our new Carrie.
This "Carrie" remake is directed by Pierce and stars Moretz, Julianne Moore, Judy Greer and Portia Doubleday. It's due in theaters on March 15.
What did you think of this trailer for "Carrie"? Tell us in the comments section below or on Facebook and Twitter.