Bruce Campbell promises "Evil Dead" is a "horror extravaganza"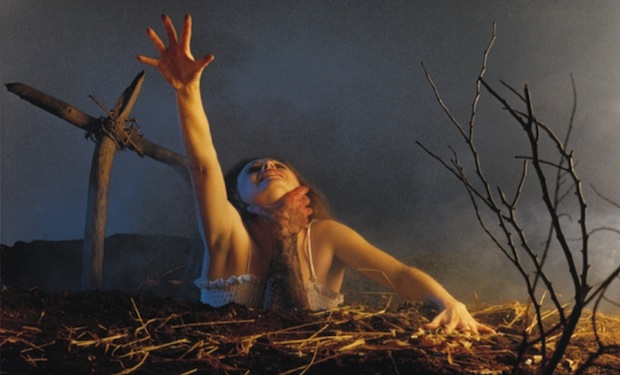 Posted by Terri Schwartz on
If "Evil Dead" sucks, Bruce Campbell is going to have a lot of explaining to do.
The actor has been one of "The Evil Dead" remake's most vocal supporters and, during an interview with Machinima at New York Comic-Con, he reinforced his love for this new movie. Fede Alvarez takes over directing duties from former helmer Sam Raimi, and Campbell promised it will be true to the spirit of the original.
"The movie's not funny. The movie is old-fashioned, retro horror. There's not a snappy line in the whole movie," Campbell explained, though he had plenty of "snappy lines" of his own during the interview. "The first movie wasn't like that, and this is a remake of the first movie, so he's really just matching the tone of the first movie, which is not, 'Hardy har har.'"
Campbell doesn't have a role in "Evil Dead," but he is acting as producer. He helped pull together the movie's "great cast" and is now helping Raimi supervise the post-production.
"We want to custom make it for fans. We're not some random cigar-chomping producer looking for a horror movie to remake. This is our baby," he said. "I can't wait. I want people to see it. I'm dying."
The first footage shown at NYCC seemed to win over fans with its gruesome scale, and Campbell — who has seen the movie's finished product — teased that's just a taste of what's to come. We can also see that in the teaser for tomorrow's "Evil Dead" trailer, seen below.
"It's going to be a horror extravaganza, not in size, just in the intensity of the horror you will experience. This movie, it's going to blow the freaking doors off," he said. "Five new actors and a nasty book they should have let alone. The rest is cinematic history."
"Evil Dead" is due in theaters on April 12.
Do you think "Evil Dead" will be as good as Bruce Campbell promises it will be? Tell us in the comments section below or on Facebook and Twitter.