The Bluths are back together again in new "Arrested Development" family photo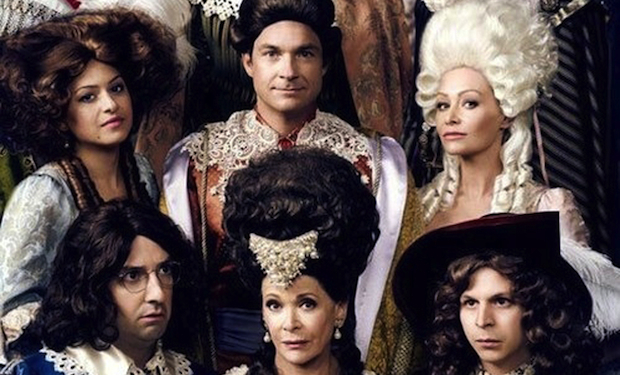 Posted by Terri Schwartz on
The Bluths are back together again.
This week's Entertainment Weekly is the Reunions Edition and our favorite television family is front and center. The cast of "Arrested Development" is hard at work filming the fourth season of the show, which means it was likely pretty easy to bring them all together and get them dolled up for an EW photo shoot of epic proportions.
This isn't the first of the ridiculous family photos the Bluths have taken for our viewing pleasure (you can see them all over at Buzzfeed), but it just might be the best. We can read into the larger implications of their costumes at a later date, but for now let's just revel in seeing them all back together again.
EW posted a snippet of the magazine's interview with the cast in which Portia de Rossi talks about going back on set after six years away.
"We all walked onto the set and we just sat around and stared at each other, and it was surreal," she said. "Everybody looked exactly the same and they acted exactly the same, both in character and in between takes. Body ­language was the same, the same old jokes, the same old eye rolls. It was really amazing."
"Arrested Development" season four will air on Netflix at some point next spring. It will have anywhere from 10 to 13 episodes, and could be released all at once instead of weekly.
What are you most looking forward to in season four of "Arrested Development"? Tell us in the comments section below or on Facebook and Twitter.