"Arrested Development" potentially returning in April, plus first official photo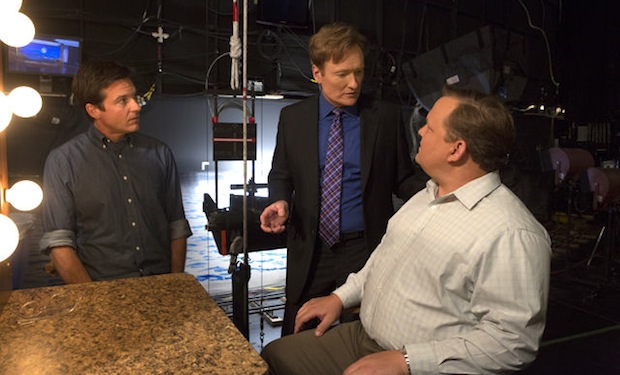 Posted by Terri Schwartz on
Here's some exciting news for you "Arrested Development" fans out there: a new report is claiming that the series will debut on Netflix in April 2013.
Up until this point, we had only heard that the beloved comedy would be returning during the vague "spring 2013" time period. Now The Film Stage appears to have learned from sources that a more specific date for the episodes' release is in April.
"Arrested Development season 4 coming April 2013 and all at once, as per usual with @Netflix," the site tweeted with no attribution to their source. Netflix has not confirmed this date yet.
Film Stage wasn't the only one active on Twitter yesterday. While most of us were still waterlogged from Hurricane Sandy, Conan O'Brien had tweeted the first official image from "Arrested Development" season four (the same photo you can see above). O'Brien and Andy Richter only announced their involvement last week, though it seems as though the duo has wasted no time shooting their cameos. Richter has appeared on the show before, but this will be O'Brien's first time.
"Here's the 1st official photo from the new Arrested Development on @Netflix. Spoiler alert: I'm an amazing actor," O'Brien wrote in his tweet.
In addition to O'Brien and Richter, Mae Whitman, Liza Minelli, Judy Greer, Ron Howard, Scott Baio, Henry Winkler, Isla Fisher, Terry Crews, John Slattery and the cast of "Workaholics" will make appearances in season four. The new season will have anywhere from 10 to 13 episodes, and could be released all at once instead of weekly.
What do you think O'Brien, Richter and Jason Bateman are doing in the above photo? Tell us in the comments section below or on Facebook and Twitter.