Andy Richter and Conan O'Brien join season four of "Arrested Development"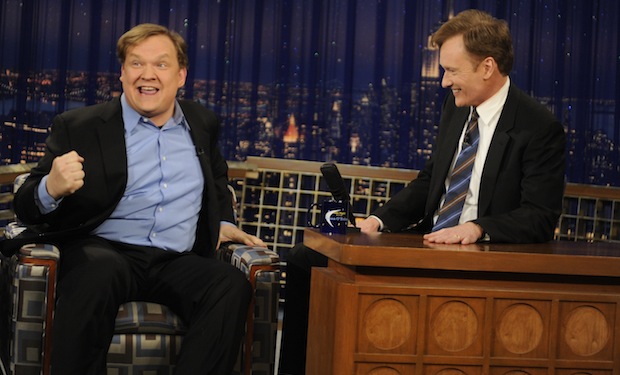 Posted by Terri Schwartz on
Two pretty exciting new guests will be joining us on "Arrested Development" in its upcoming fourth season. Will Arnett spilled the beans during his recent visit to "Conan."
"We're really excited. We're making this "Arrested Development" sort of miniseries, if you will, and I think that I can say — I don't want to give away too much, I don't want this to be too much of a spoiler alert — but I think that I can put it this way, that there are a few people on this stage tonight who are a part of it," Arnett teased.
Who could he be talking about? The only other people on the stage were Conan O'Brien and Andy Richter, both of whom make sense to appear on the series. He went on to confirm that the two actors will be involved.
"I think we know who we are," he said. "It's us."
Fingers crossed that O'Brien will be playing Emmett Richter, whose face we've never seen (though a composite photo did show that he would actually look like his four brothers).
Both men are joining a growing group of familiar faces. Mae Whitman (who?), Liza Minelli, Judy Greer, Ron Howard, Scott Baio and Henry Winkler will all be back, and newcomers Isla Fisher, Terry Crews, John Slattery and the cast of "Workaholics" will join them.
"Arrested Development" season four will air on Netflix at some point next spring. It will have anywhere from 10 to 13 episodes, and could be released all at once instead of weekly.
What other recurring characters would you like to see return in "Arrested Development"? Tell us in the comments section below or on Facebook and Twitter.