Adapt This: Could "The Phantom Stranger" make terrifying television?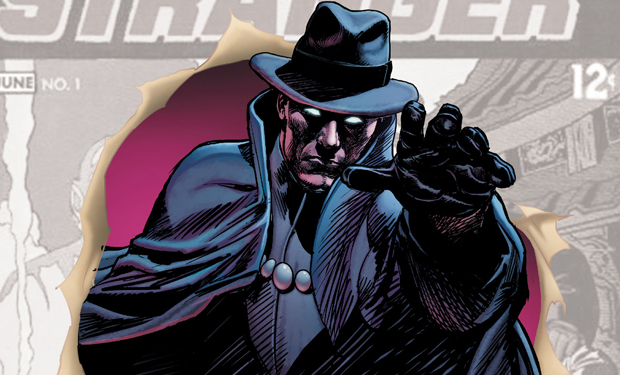 Posted by Rick Marshall on
With Hollywood turning more of its attention to the world of graphic novels for inspiration, I'll cast the spotlight on a cool comic book each week that has the potential to pack a theater or keep you glued to your television screens. At the end of some "Adapt This" columns, you'll also find thoughts from various comic creators and other industry experts about the books they'd like to see make the jump from page to screen.
---
This Week's Book: The Phantom Stranger (DC Comics)
The Premise: A mysterious, magic-using character who made his debut in 1952, The Phantom Stranger turns up unexpectedly when supernatural forces are afoot and gives characters a nudge in the right direction (or outright helps them) in overcoming a mystical dilemma. Little is known about the Stranger's origin, though we learn a little more each time he steps out of the shadows to act on a supernatural threat.
The Pitch: Scary television is at an all-time high these days with shows like "American Horror Story" serving up dark, adult-themed scares on a weekly basis while series like "Supernatural" offer a lighter take on ghosts, demons, and other things that go bump in the night. A television series based on "The Phantom Stranger" could be easily served up to either audience, and offer a bit of monster-of-the-week serialized adventure and an overarching tale that teases out the title character's past.
A "Phantom Stranger" television series could feature a recurring cast of human characters introduced over the first few episodes who get caught up in a supernatural event far beyond their understanding or abilities to overcome. His true role in the events could be left a mystery, along with the nature of his intentions and other elements that could be teased out over the course of a season, with even greater mysteries about him and the supernatural world he polices unfolding over the course of the series. As the human characters struggle to make sense of the terrifying events happening around them, they're drawn together by the mystery of who the Stranger is and why he's helping them.
Basically, the framework for the show could take many different forms, but the mystery of the Phantom Stranger will be the narrative glue that holds the entire series together. Whether the human characters are separate elements brought together over several episodes or something as simple as a police officer and his/her colleagues caught up in an investigation that defies science, there are lots of different narrative threads that can run through a "Phantom Stranger" series, as long as the core element — the Stranger — is present to bring it all together.
Casting Suggestions: Historically, the Phantom Stranger has always appeared as a dapper gentleman with a flowing cloak and matching fedora, who wears a suit and a large pendant that may or may not possess some mystical qualities. His features are usually hidden in shadows, though his eyes are almost always a bright white without any visible irises or pupils. His face rarely shows any sign of emotion, though he is prone to a rare smile or other gesture that hints at a knowledge of things far beyond our understanding.
Someone like "Sex and the City" actor Chris Noth could easily pull of the mix of stern-faced nobility and occasional condescending attitude that's key to the Phantom Stranger, and the same goes for "Parks and Recreation" actor Nick Offerman, who'd be flexing some different muscles in the transition from comedy to dark, supernatural drama. And really, who wouldn't want to see "Ron f'ing Swanson" intone some cryptic lines about the fate of the world and horrors beyond mere mortals' comprehension? A network willing to break the racial mold for the character might also do well to look at actors like Dennis Haysbert ("24") and Harry Lennix ("Dollhouse"), two fine actors capable of handling surreal events with the necessary gravitas of a role.
---
Would "The Phantom Stranger" make a good television series? Chime in below or on Facebook or Twitter.