Adapt This: "Netherworld" takes Parker to Purgatory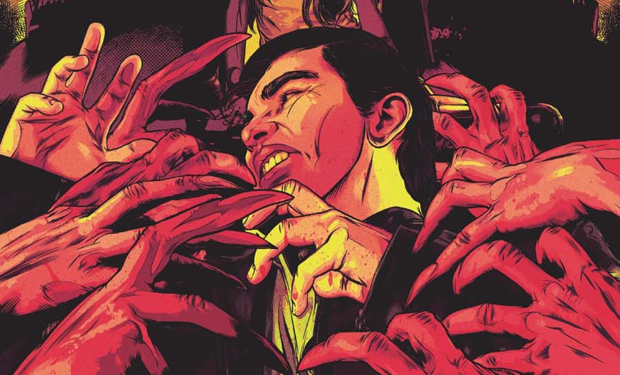 Posted by Rick Marshall on
With Hollywood turning more of its attention to the world of graphic novels for inspiration, I'll cast the spotlight on a cool comic book each week that has the potential to pack a theater or keep you glued to your television screens. At the end of some "Adapt This" columns, you'll also find thoughts from various comic creators and other industry experts about the books they'd like to see make the jump from page to screen.
---
This Week's Book: Netherworld by Bryan Edward Hill (w), Rob Levin (w), and Tony Shasteen (a) – Top Cow & Heroes and Villains Entertainment
The Premise: Ray Parker is a former cop turned junkie turned bounty hunter, prowling the streets of a city that lies somewhere between heaven and hell. When he's asked to locate a beautiful young girl, he finds himself thrust into the middle of a war for the city's souls, pressed into service by his own personal code and a quest for redemption he won't admit he's on.
The Pitch: This may be the second "Adapt This" column in a row to suggest a comic that blends a Richard Stark-style "Parker" crime story with a supernatural adventure steeped in blood and bullets, though it couldn't be more different than its predecessor, Awakening. Published in 2011, Netherworld feels like a fast-paced action movie set in a dark, demon-infested version of Los Angeles. The story's hero is a stubborn brute of an ex-cop named Ray Parker, and the similarities between the character and the iconic antihero of novels like The Hunter doesn't end with the name. Rip the various big-screen versions of Parker out of films like "Payback" and "Point Blank" and put them up against an army of demons in a grimy, neon-filled city where the sun never seems to rise and you've got the gist of Netherworld.
What's interesting about Netherworld as potential source material for a big-screen movie (or even a television series, for that matter) is that the adaptation could take many different forms — much like the "Parker" novels, in fact. It's easy to see the potential for a big-budget, flashy, effects-driven adventure with a superhero-like protagonist battling his way through a gauntlet of demons a la the "Underworld" or "Blade" movies, but it's just as easy to envision an adaptation that takes a low-fi, grittier approach to the story that prioritizes the crime-noir elements over the supernatural. Netherworld is a comic that offers a studio some options, and that can be a very good thing on both sides of the comic-movie divide.
While a solo movie with the hope for a franchise would certainly make the most sense for a Netherworld adaptation, there's also some potential for a dark, moody television series that combines gothic horror, crime stories, and intense action sequences in episodic adventures. The first arc of the series might cover the first volume of the comic, and subsequent episodes could each follow a new "client" Parker takes on in a "Burn Notice"-style mission of the week format.
Casting Suggestions: In the collected first volume of Netherworld, the series' writers indicate that Ray Parker is inspired by "Gladiator"-era Russell Crowe or Gerard Butler, and those seem like good options, though there are a few other actors that come to mind for the main character. Karl Urban could easily handle the mix of action, grit, and resolve necessary for Ray Parker in any version of a Netherworld adaptation, and the same goes for stern-faced leading men like Jeremy Renner and Mark Wahlberg, who could both offer a nice spin on the character. Thomas Jane could also make a great Ray Parker, and like some of the aforementioned actors, he'd certainly do a fine job grounding the character amid all of the supernatural elements in the story.
If an adaptation opts to go full-on action, someone like Dwayne Johnson or — to a lesser degree – Dominic Purcell could be a nice fit for the role. And at the risk of revealing my bias for a certain biker-themed television series, "Sons of Anarchy" actor Ryan Hurst combines the muscle and the pathos necessary for Ray Parker if a studio's willing to gamble on a relatively untested actor.
---
Would "Netherworld" make a good movie or television series? If you think so, which type of adaptation would you like to see? Chime in below or on Facebook or Twitter.