10 Ways to Celebrate Halloween in Portlandia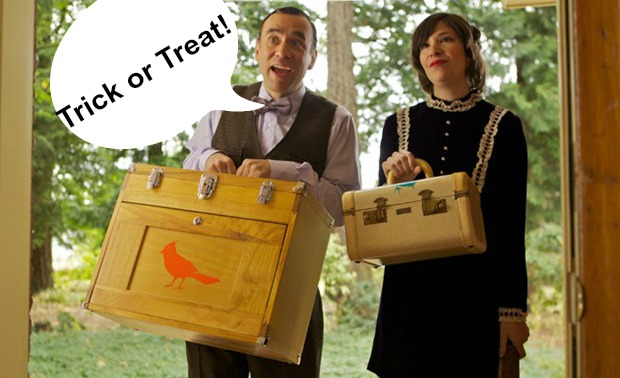 Posted by Melissa Locker on
Halloween is just around the corner and we know you've been trying to figure out what Halloween costume you can wear to impress your friends and your enemies. We like to be a contributing member of our community and a real help to society so we put our thinking caps on and came up with a few great ideas for you.
Here are ten great ideas for costumes courtesy of your friends in Portlandia
1. Cacao! Be Nina or Lance
Could this be the ultimate couple costume?
2. Put A Bird On Halloween
Put a Bird on It! Whether on yourself or on a pumpkin:
3. Pickle Halloween
Pickle yourself!
4. Release Your Inner Geek
Head out in a Battlestar Galactica costume, or more realistically, stay in and watch ALL THE EPISODES:
video player loading
.
.
.
5. Go as a Dog on a Pole
Wait around for Kath and Dave to rescue you
6.Marionberry Pancakes for all!
Here's a recipe for Marionberry treats, but don't even THINK about skipping the trick-or-treat line:
video player loading
.
.
.
7. Dream of the 90s
Nose rings and flannel on!
8. Dream of the 1890s
Grow those whiskers out!
video player loading
.
.
.
9. Be the Mayor
Openly reggae, of course.
video player loading
.
.
.
10. Get Cat Nap Fever
Or go as Echo Echo
Want the latest news from Portlandia? Like them on Facebook and follow them on Twitter@ifcPortlandia and use the hashtag #portlandia.
Portlandia returns to IFC in January 2013