What to watch on IFC tonight: "The Prestige"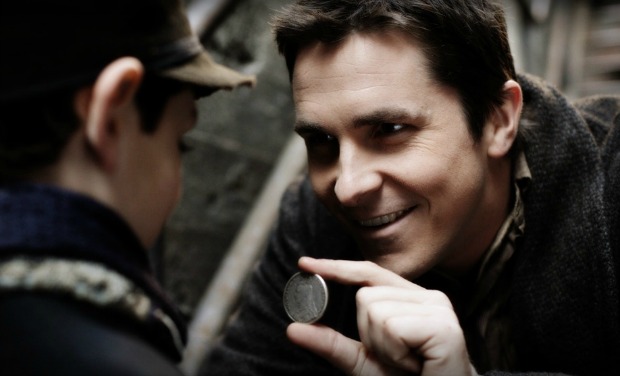 Posted by Melissa Locker on
Guess what we're showing tonight at 8/7c. Here's a hint:
That's right, tonight we are showing "The Prestige." Christopher Nolan's film focuses on the tense relationship between two turn-of-the-century magicians Rupert Angier (Hugh Jackman) and Alfred Borden (Christian Bale). Yep, it's Jackman versus Bale:
Okay, so they aren't Wolverine and Batman (except for forever in our hearts) but instead play London-based magicians of the highest order, both blessed with spectacular powers of deception and both cursed with unrelenting envy for one another's skills. In "The Prestige" Christopher Nolan treads similar aesthetic ground as in "Memento" and "Batman Begins." The film is visually beautiful, but the best directorial choice Nolan made was to cast David Bowie as reclusive scientist Nikola Tesla. Sure sure he made Scarlett Johannson the love interest, but is Scarlett as awesome as the Thin White Duke? We'll let Christian Bale answer that one:
When Alfred performs an awe-inspiring trick for which there seems no logical explanation, the friendly competition shared between the pair turns to deadly rivalry as the enraged Rupert determines to uncover his rival's deepest secrets. In the world of illusion, however, nothing is ever quite as it seems, and the rules of the physical world simply don't apply. So we have to ask:
You will be once you tune in to "The Prestige" tonight at 8/7c.
Want the latest news from IFC? Like us on Facebook and follow us on Twitter @ifctv.
"The Prestige" airs tonight at 8/7c and Sunday, September 23 at 8/7c