Tim Grierson on the Triumphant Return of Joaquin Phoenix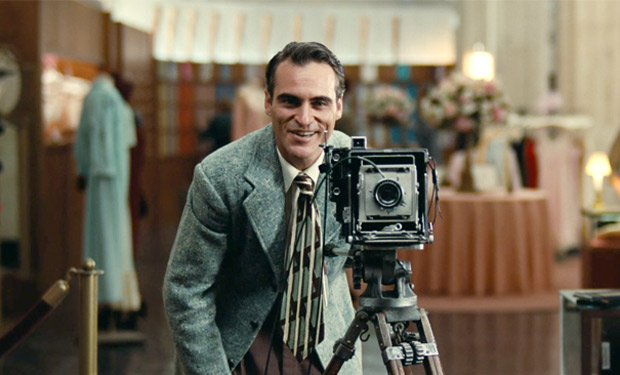 Posted by Tim Grierson on
There are several things to savor in "The Master," writer-director Paul Thomas Anderson's powerful new film about a postwar cult leader and the young loner he takes under his wing. But chief among them is the performance of Joaquin Phoenix as Freddie, the loner, who sees Dodd the cult leader (played by Philip Seymour Hoffman) as not quite a father figure and not quite a friend. Scarred by his experience in World War II fighting in the Pacific — not to mention being dumped by his underage flame — Freddie is a desperate alcoholic who has clear anger issues and possible mental problems. It's a role that normally requires a big performance, but what's remarkable about Phoenix is that while he's appropriately oversized in his emotions, he's physically shrunken and recessive otherwise, mumbling his words in such a way that makes you think Freddie would rather just disappear. The character is like a drowned rat with the coiled fury of a lion. Dodd wants to tame him, but no one can — for that to happen, Freddie would need to know what would bring him happiness.
It's an extraordinary performance, and in retrospect it seems obvious that Phoenix's entire career has been building to this moment — the clues were there all along. Thank goodness it all didn't get derailed a few years ago.
When Phoenix began as an actor, he was in the shadow of his older brother River, who had earned accolades starring in everything from "Stand by Me" to "The Mosquito Coast" to "Running on Empty" to "My Own Private Idaho." River seemed destined to have a long, distinguished career, but his life was cut short when he died at the age of 23 from a drug overdose on Halloween 1993. Joaquin had done some performing by that point — appearing in "SpaceCamp" and "Parenthood" — but he first really announced himself as a serious actor with "To Die For," the 1995 dark comedy about a conniving weather girl (Nicole Kidman) who seduces an impressionable teen (Phoenix) into killing her husband. Phoenix was not yet 21, but "To Die For" established his onscreen persona: the emotionally wounded, potentially dangerous outsider who might respond with violence or tears in any situation. You're not sure whether to hug the poor guy or back away slowly.
Over the next 13 years, Phoenix appeared in a wide range of films — everything from "Quills" to "Signs" — but his best roles contained that same DNA shown in "To Die For." And most impressively, he could provide this unique spark to even big-budget films. His turn as Commodus in "Gladiator" elevates a potentially one-note villain into something more poignant — which, in turn, only makes the character more evil. Playing a weak young man undeserving to inherit the crown of his dying father, the emperor, Phoenix made Commodus a pitiful figure equally consumed by jealousy and ambition. Commodus is a great antagonist because, on some level, he knows Maximus (Russell Crowe) is a better man than he is, and so his constant efforts to destroy the people's champion is really just a way for Commodus to silence his own doubts about himself. Phoenix earned his first Oscar nomination for the role, and it's easy to understand why: Few modern film villains are as tortured as Commodus, and Phoenix made you feel his pain, even while you were rooting for Crowe.
But Phoenix hasn't just been adept at playing bad guys — sometimes, he's superb portraying good people trying to outrun their dark sides. That was certainly the case with his role as Johnny Cash in "Walk the Line," a better-than-average musical biopic. Reese Witherspoon won an Oscar for her turn as June Carter, but Phoenix's Cash was the trickier part, playing a man with such presence and such demons who was trying to find his way toward loving this good woman. Throughout his career, Phoenix has done a fine job portraying people who, if things were different, would probably be fine, upstanding members of society. But they can't get out of their own way — either their failures or their inadequacies or their addictions grab them by the ankles — and so they stumble forward, and it's in their refusal to stop trying that they become truly heroic.
That certainly was the case with "Two Lovers," in which he played a suicidal, imbalanced New Yorker who finds himself drawn to two very different women: a good girl (Vinessa Shaw) and a high-maintenance party gal (Gwyneth Paltrow). Before "The Master," this was his most complete performance, and it can be tempting to see "Two Lovers" as a warm-up for Freddie's tortured, almost inarticulate longing. Unfortunately, not enough people saw "Two Lovers," in part because by the time it came out, Phoenix had announced that he was retiring from acting to focus on a rap career. Of course, the whole thing was a hoax connected to the mockumentary "I'm Still Here," which pretended to follow his journey from film to music. But after a bizarre, mumbling, bearded appearance on "Late Show With David Letterman" that was part of the act, most assumed that Phoenix had become another brain-dead Hollywood celebrity, and nobody paid much mind to "Two Lovers." That's a shame — it's a film ripe for rediscovery.
"The Master" is Phoenix's first film since the "I'm Still Here" debacle, and even that mockumentary shows signs of how the actor constructed his portrayal of Freddie. In "I'm Still Here," Phoenix fearlessly allows himself to look pathetic — there's little question that his "character" is a terrible rapper — and yet his total commitment to the role (and the accompanying ridicule) is stirring. All of the aspects of Phoenix's onscreen persona are on display in "The Master": the vulnerability, the darkness, the bravery, the danger. And with it will probably come his third Oscar nomination. His has been a career that has been marked by its unpredictable, edgy characters — as a longtime fan, it's gratifying to see him take a part tailor-made for his talents and knock it out of the park the way he does in the new movie. I always knew he had it in him, but even I wasn't quite prepared for how galvanic it would be.