Tim Grierson on the Inspiring AIDS Documentary "How to Survive a Plague"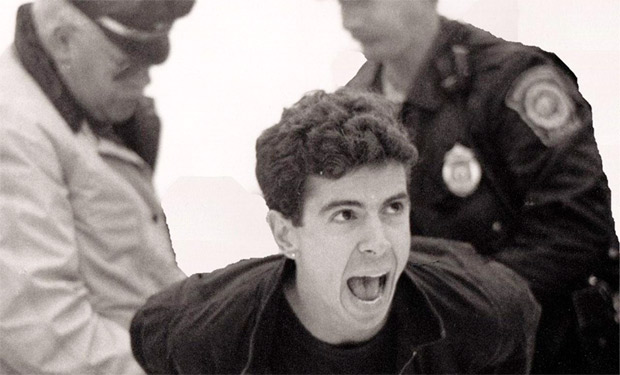 Posted by Tim Grierson on
Recently, the media marked the one-year anniversary of Occupy Wall Street, the nascent political movement started to protest corporate influence on government. Of course, this country has had a long history of activism, whether it's the women's suffrage movement that began in the 19th century, the civil rights struggle of the 1950s and '60s, or the rise of the Tea Party in 2009, and it's a sign of a strong democracy that its citizens continually feel empowered to let their voices be heard.
Probably the most meaningful activist cause of the last 30 years — one that's still ongoing — is the fight for equal rights for lesbian, gay, bisexual and transgender people. That cause has suffered setbacks along the way, but as a moving new documentary, "How to Survive a Plague," demonstrates, there has also been significant progress, most notably in the fight to curb the spread of AIDS in the gay community in the 1980s and '90s. The film opened in select cities over the weekend and will be arriving on VOD platforms starting on Friday. It's a stirring reminder that activism can sometimes be a messy, difficult process but a necessary one in order to bring about change.
"How to Survive a Plague" is directed by David France, a journalist who has been writing about AIDS for 30 years, and the documentary tells the story of ACT UP, a New York group that was committed to raising awareness of the disease and advocating for extensive government research into finding a cure. One of the organization's biggest hurdles at the time was a public perception that AIDS was a gay illness, and consequently there was reluctance among some to help people whose lifestyle they found immoral. This meant that ACT UP had to fight bigotry as much as they were fighting a disease.
Of the film's many laudable qualities, "How to Survive a Plague" takes us back to the roughly 10-year period that began with ACT UP's formation in 1987, providing us with a wealth of archival footage from the organization's meetings and public protests. As a result, "How to Survive a Plague" feels less like a historical document — although it's certainly a valuable one — than it does an urgent battle plan that's unfolding as we watch. Even if you already know how instrumental ACT UP's actions were in convincing government, scientists, and drug makers to speed up their work, "How to Survive a Plague" is undeniably tense and electric. By relying largely on the old footage shot by ACT UP members, the documentary serves as a year-by-year chronicle of the incremental progress made by the group in all its messy unpredictability.
That messiness is important because it shows that democracy doesn't often flow smoothly, requiring activists to try all different tactics to achieve their goals. In "How to Survive a Plague," we see ACT UP's key figures — including charismatic spokesman Peter Staley and fiery PR pro Bob Rafsky — incorporate everything from sit-ins (which they called "kiss-ins") to theatrical, highly orchestrated protests (such as dumping the ashes of loved ones on the White House lawn) to meeting with influential congressmen, moving on to new publicity strategies when old ones start to lose their potency. At the same time, the film shows how activist groups evolve over time, moving out of their idealistic early period and learning how to reconcile changing (sometimes competing) agendas within their membership. While "How to Survive a Plague" celebrates the perseverance of ACT UP, the documentary doesn't shy away from acknowledging the group's internal divisions after years of frustration. (Indeed, such a moment of frisson at an ACT UP meeting from the early '90s leads to one of the film's most cathartically beautiful scenes.)
When we think about renowned activists like Martin Luther King, Jr. who devoted their lives to changing the world, the word we often use to describe them is "courageous." And while courage is certainly an important ingredient in challenging society's preconceptions and biases, the men and women shown in "How to Survive a Plague" relied on anger and desperation as much as bravery. Typical Hollywood feature films would depict these people as tireless heroes, but as we see in the archival footage, they were actually quite human — articulate and smart and impassioned, but also enraged and scared about a disease that was killing their community while too much of the rest of the world looked the other way. That anger permeates "How to Survive a Plague," which unapologetically presents ACT UP's more combative protests and showy publicity stunts, including a confrontation with Bill Clinton while he was on the stump during the 1992 Democratic primaries. There will be those, myself included, who might become annoyed during parts of this film because it seems that ACT UP's actions are childish or unproductive, but France makes a convincing argument that the net value of the group's activities was resoundingly productive, kicking and screaming to bring exposure to AIDS. If nothing else, the film reminds the rest of us from the comfort of our safe remove that few things get done in a democracy by the mild and the polite.
Because it focuses on archival footage that's supplemented by a smattering of present-day interviews, "How to Survive a Plague" is more a portrait of a cause than an in-depth examination of those involved, although we do learn enough about these individuals to deeply admire them. For an even more up-close-and-personal snapshot of how AIDS decimated communities, you should seek out last year's "We Were Here," a superb documentary that chronicles how San Francisco's gay population combated the disease in the 1980s. In a sense, they're companion pieces, offering a personal and political perspective on a scourge that claimed far too many lives. But as "How to Survive a Plague" demonstrates, though the terror of AIDS has subsided, it's a disease that still persists. Meanwhile, the LGBT movement has made major inroads in convincing the rest of society to treat its community with the same respect and rights that all other groups receive. But that fight is not yet completed. When I was a kid learning about the civil rights movement, I wondered what it would be like to be alive during such a pivotal moment in American history. Only in my adult life have I realized that another such movement has been with us for quite some time. With its rage and tears, "How to Survive a Plague" has delivered an eloquent document of history as it happened — history that has yet to write its final chapter.