Tim Grierson Defends the Never-Ending Oscar Season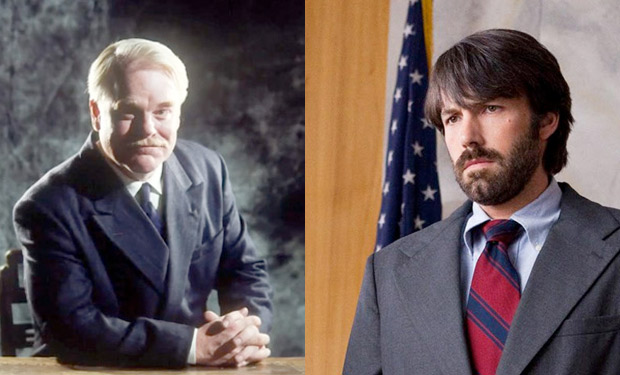 Posted by Tim Grierson on
Summer movie season is over, but before you can even catch your breath, boom, we find ourselves in the midst of the major fall film festivals: Venice, Telluride and Toronto. These festivals are the launching pad for some of the year's first serious Academy Award contenders, which might seem ridiculous since the Oscars take place February 24. (That's more than five months from now.) Nonetheless, from here on out we're going to be hearing nonstop discussion about what movies and what performances have the inside track for awards. It's a tiring, silly season. And yet, all in all, I still think it's pretty terrific.
While most people happily go about their lives not caring a lick about the Oscars until the night of the broadcast, there are whole industries (and several websites) devoted to a year-round obsession with who might win those prizes. It starts in January with the Sundance Film Festival, which this year unveiled the critically acclaimed indie hit "Beasts of the Southern Wild," and then picks up a little steam in May when the Cannes Film Festival occurs. But early September is when award-mania really begins, and in the last few days there have been glowing reviews for the likes of Paul Thomas Anderson's "The Master" and Ben Affleck's "Argo." But beyond discussing how good these movies are, there's also a lot of idle speculation about these films' Oscar chances, as if such a thing could (or should) be quantified.
It's this element of award handicapping that film critics like me find distasteful. Rather than debating an ambitious movie's merits or dissecting its thematic intentions, the media spends an inordinate amount of time trying to guess how the approximately 5,500 members of the Academy of Motion Picture Arts and Sciences will feel about the film. The Oscar season reduces an art form to a popularity contest, rewarding movies that are, by consensus, deemed to be "good," which often disqualifies stronger, nervier films simply because they're too divisive.
So why do I look forward to this season more than any other?
In part, it's because Oscar season is the one time of year when a movie's quality really matters. We're inundated with awards in the buildup to the Academy Awards — everything from the Golden Globes to prizes from critics' organizations (including the Los Angeles Film Critics Association, of which I'm a member) — which can make the fall feel like an interminable slog of endless trophies and speeches. But in their own way, each stop on the award-season calendar is an attempt to celebrate the best in filmmaking. Rather than focusing on box office or celebrities, awards are supposed to be based on artistic quality, and while we can all argue about how successful any of these groups are in picking what the "best" movies are, it does shift the focus back to the craftsmanship and skill of the work.
That should be obvious, but sadly it's not. Anyone who follows film at all knows that it's a business like any other — it exists to make money. This isn't something that suddenly happened in Hollywood — from its beginning, the industry wanted to reap profits through any means that it could. That's why, as frustratingly imperfect as it is, I'm grateful that the endless award season does at least serve as a reminder that movies should be about more than just grosses. The season creates a conversation about what constitutes greatness: Is it a film that stirs your soul? Is it one that leaves you feeling good? Is it one that challenges you? Audiences and critics alike debate these questions all the time, but it's only really when we get close to the Oscars that those debates take center stage. Let's not be naïve: The Oscars are about money as well. But, in theory, award season focuses on movies that are actually good, and I'm always in favor of discussing good movies as opposed to wasting time yapping about bad sequels and tired reboots.
Since I tend to be an Oscar apologist, it probably won't surprise you to learn that I grew up watching the Academy Awards. From an early age, I was attracted to this notion of a group of seemingly wise, seasoned professionals deciding what the best movies were. As you get older, you realize that these professionals are no wiser than anybody else, but what has stayed with me is this notion that the Academy Awards matter — that they coronate films and performances, giving them an immortality they might not otherwise have. (And, of course, that can be a double-edged sword: We all have our own list of movies we can't believe won Best Picture.) Maybe I'm holding onto that childhood idealism a little too tightly, but nonetheless I take award season seriously because, at the end of it, there are going to be Oscars given out, and I'm concerned that they go to the right people. I realize how ridiculous that is to say: I have no control over the process. But because I've loved movies all my life, I feel like I have a stake in how the Academy makes their decisions. I think we all do, despite being powerless to affect the outcome. That's why I'm less interested in all the endless handicapping — I just care that the voters get it right.
Cynics and realists will probably scoff at this. It's stupid to care what a bunch of people I've never met think is Best Picture. What makes a movie "best" anyway? I don't know, and nobody else does, either. But I think that's the point. The completely ludicrous impossibility of deciding what movie is best is what makes it so fascinating. It is, by nature, subjective — no movie beats another movie in the Super Bowl to decide the champion — so it comes down to our biases and preferences. When we're discussing what movies we love, we're really talking about what we love and who we are. For all the money and hoopla surrounding the Oscars, I find that I'm less interested in a specific movie winning than I am in getting to the heart of our love for great movies. Award season isn't so much about that, I realize, but for me it is. I just hope I'm not alone in feeling that way.