"The Hobbit: An Unexpected Journey" trailer promises the start of a new adventure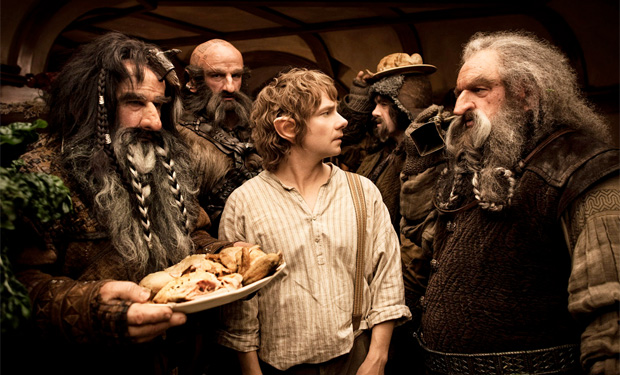 Posted by Terri Schwartz on
The new trailer for "The Hobbit: An Unexpected Journey" has finally debuted, and now we have a better sense of what the first movie in the "The Hobbit" trilogy will look like.
Though the "Lord of the Rings" movie tell a story on a more epic scale, "The Hobbit" clearly will still have its fair share of action. We see a handful of action set pieces here, most notably when Bilbo fights a goblin (likely Gorkil the Goblin King) and the dwarves square off against some trolls. That will be coupled with plenty of drama as Bilbo has to play a game of riddles with Gollum (it looks like his acquiring of the ring will take place in this film) and as we try to figure out what Gandalf is up to with Galadriel and Elrond.
But what's at the center of the movie is its heart. We see plenty of comedic moments with Martin Freeman as Bilbo Baggins (clearly he has a better sense of humor than his younger cousin Frodo) and it's clear that those will keep the tone of "The Hobbit" light. But there's also a lot of love in this movie, as we saw in its last trailer with the dwarves' song. Those elements should keep this movie close to what J.R.R. Tolkien intended when he penned it, even though this by no means looks like a kid's movie.
"The Hobbit: An Unexpected Journey" is due out on December 14, with "The Hobbit: The Desolation of Smaug" hitting theaters on December 13, 2013 and "The Hobbit: There and Back Again" due out on July 18, 2014.
What did you think of the new trailer? Tell us in the comments section below or on Facebook and Twitter.