"The Dark Knight Rises" Blu-ray has no deleted scenes but does have a special cowl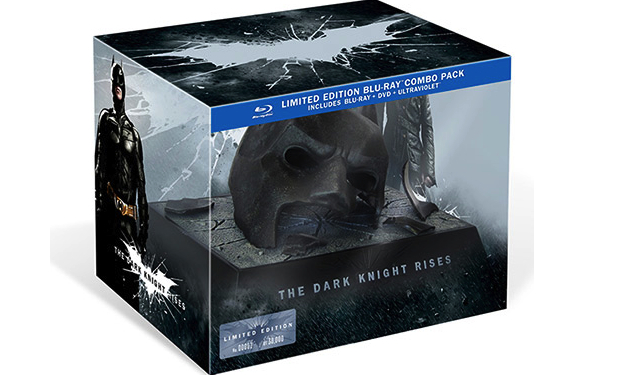 Posted by Terri Schwartz on
There's been speculation about what "The Dark Knight Rises" Blu-ray would or wouldn't include seemingly since the film came out in theaters back in July, but now we can put all the rumors to rest. The official rundown of what will be included in the Blu-ray combo pack has been released and, well, it's sort of lame.
Entertainment Weekly has the news and the first look at the packaging for the Blu-ray, which includes a collectible "The Dark Knight Rises" shattered cowl. The extra features on the Blu-ray combo pack (Blu-ray, DVD and digital download) include a documentary about the Batmobile, about 17 featurettes explaining how director Christopher Nolan and his team made "The Dark Knight Rises", a featurette called "The Journey of Bruce Wayne" and a collection of trailers and art galleries.
Fans had been hoping that the Blu-ray for "The Dark Knight Rises" would include a director's cut or at least some deleted scenes because of how inconsistent the film was. It felt like there were pieces missing and, despite the fact Nolan has repeatedly said he doesn't have deleted scenes and thus there aren't any to share on a home video release, many still thought there would be some. Well, we didn't want to know about Bane's backstory anyways. (Just kidding, we really did.) Who knows, maybe a future release of Nolan's trilogy in one package will include some more exciting special features. We'll just have to hold out hope.
"The Dark Knight Rises" will come out on Blu-ray on December 4.
Would you have rather had deleted scenes than these featurettes? Tell us in the comments section below or on Facebook and Twitter.