Thanos to appear in both "Guardians of the Galaxy" and "The Avengers 2"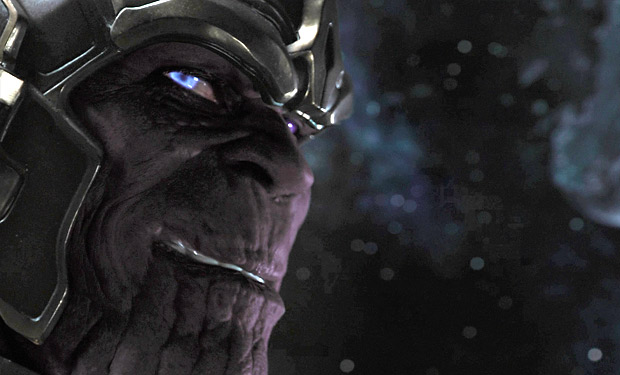 Posted by Terri Schwartz on
It's official: not only will Thanos be a presence in "Guardians of the Galaxy," he'll also be a villain in "The Avengers 2."
In a recent interview with Cosmic Book News, Thanos creator Jim Starlin confirmed that there is already a deal in place with Marvel to have the character appear in both films. It seems to imply that Thanos will go on to be "The Avengers 2's" villain in the same way Loki was first introduced in "Thor" but went on to terrorize Earth's mightiest in "The Avengers."
This news means there's also room for another villain in "Guardians." A Twitter user named Roger Wardell who seemingly has the inside scoop on Marvel Studios has said that the company plans to use Adam Warlock and his evil alter ego Magus in "Guardians of the Galaxy," which seems like it lines up with this news from Starlin. Magus could be another villain who was manipulated by Thanos the same way Loki was, which would tie in nicely with a major showdown in "The Avengers 2."
Back when Thanos was first introduced in "The Avengers," Joss Whedon expressed his excitement about being able to tackle one of the most beloved and terrifying Marvel villains around.
"He for me is the most powerful and fascinating Marvel villain. He's the great grand daddy of the badasses and he's in love with death and I just think that's so cute," Whedon said. "Somebody had to be in control and had to be behind Loki's work and I was like 'It's got to be Thanos.' And they said 'Okay' and I'm like 'Oh my God!'"
It was at that time that Marvel Studios president Kevin Feige first hinted that we probably won't get a Thanos payoff until "Guardians" or "The Avengers 2." Considering we're going to get it in both, we'd call that wait worthwhile.
"Guardians of the Galaxy" will be directed by James Gunn and is due in theaters on August 1, 2014, with "The Avengers 2" directed by Whedon and coming out on May 1, 2015.
Do you think Thanos will be a good central villain for the Marvel Cinematic Universe: Phase Two? Tell us in the comments section below or on Facebook and Twitter.