Ten Offbeat Comedy Moments from Wes Anderson Movies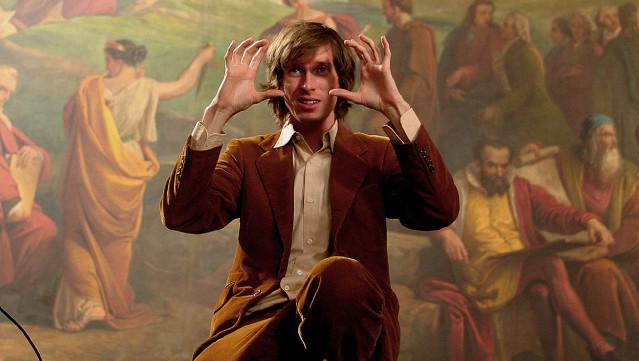 Posted by Andy Hunsaker on
6. "The Royal Tenenbaums" – Reckless Royal
How irresponsible is Royal Tenenbaum? When he gets a chance to actually spend some time with his grandchildren over the objections of his resentful son Chas (Ben Stiller), these are the kinds of shenanigans he pulls with them. Vandalism and skullduggery. 
---
7. "The Life Aquatic with Steve Zissou" – Steve vs. Pirates
Bill Murray takes center stage and the title role in Anderson's 2004 tale about a Jacques-Cousteau-esque professional sea explorer having a mid-life crisis in the wake of his best friend being eaten by a mysterious "jaguar shark." We'd seen Murray be funny and moody before this film, but one thing we hadn't really seen him do was be a badass, which happens in the midst of a tense pirate siege of their boat, and it's hilariously cathartic. 
---
8. "The Life Aquatic with Steve Zizzou" – Rescuing the Bond Company Stooge
The laconic badassery doesn't stop at driving off the pirates, though – no, siree, Bob.  It seems the bond company stooge they never wanted on board has been abducted by those ne'er-do-wells, and it's up to the remaining crew of the Belafonte to launch a raid to rescue the guy. Willem Dafoe's Klaus has an emotional flare-up that almost derails the adventure, and when things go bust, Steve has one of his own with his maybe-maybe-not son Ned (Owen Wilson). Then it suddenly turns out that things haven't gone as bust as they thought when they find the pirates also have Steve's romantic rival hostage (Jeff Goldblum).   
---
9. "The Darjeeling Limited" – The Brothers Fight
In this 2007 effort, Owen Wilson, Adrien Brody and Jason Schwartzman play brothers who haven't spoken in the year since their father died, but who have come together to journey across India by train to try and find their runaway mother (Anjelica Huston).  The controlling Francis (Wilson) also wants them to have an emotional bonding experience, which the other two resist in their own ways while dealing with their relationship issues. The tension between the three of them finally boils over into a full-fledged fight that involves repeated use of mace. 
---
10. "Fantastic Mr. Fox" – Cuss
Anderson's acclaimed foray into stop-motion animation in 2009 gave us George Clooney and Meryl Streep voicing a married fox couple trying to make a better life for their families, despite the warnings of their lawyer Badger (Bill Murray) about the dangers of their impending move to an unwelcoming farm land.  Here, Fox and Badger find their argument getting a mite heated. 
---
What are your favorite Wes Anderson off-beat comedy moments? Tell us in the comments below or on Facebook and Twitter.