Ten Offbeat Comedy Moments from Wes Anderson Movies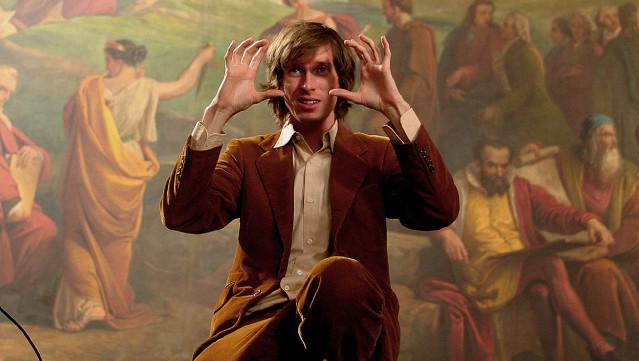 Posted by Andy Hunsaker on
Director Wes Anderson is known for his innovative and offbeat sensibilities with blending odd comedy with artsy drama in ways that appeal to minds that are far afield – something most film fanatics tend to appreciate. He's also known for having a steady stable of actors at his disposal, having given Jason Schwartzman and Owen & Luke Wilson their first break (Owen co-wrote a few of the films as well), and having elevated Bill Murray to the realm of Oscar contention.  His comedy stylings aren't generally suited to being taken out of context, as they will be in this list of ten great moments from his films (for which we could find video clips), because most of the amusement is derived from having the weird characters bounce off each other. However, with the fresh release of his latest effort, "Moonrise Kingdom," it's well worth the trouble to take a look back over his filmography to find the funny. He's not a super-prolific auteur, but in his case, it's very much quality over quantity, and his films always find a way to get under your skin.
---
1. "Bottle Rocket" – The Planning
Anderson's first feature film arrived in 1996, bringing the Wilson brothers with it as they expanded on Anderson's short film of the same name. Owen plays Dignan, an oddball who has a meticulous plan for a string of heists that he's trying to convince his disinterested accomplice Anthony (Luke) to go along with it. In this clip, we get a sense of Anthony's malaise and Dignan's uptight devotion to his ridiculous dream of being a master criminal. 
---
2. "Bottle Rocket" – The Heist
Why is Dignan's dream ridiculous? Because this is what happens when you bring a getaway driver on board simply because he's the only guy you know with a car, and why if nobody else is really all that into being thieves, your caper is likely to go pear-shaped in a hurry. Much like this clip. 
---
3. "Rushmore" – The Dinner
Anderson's real breakthrough hit was this 1998 cult favorite that introduced us to Jason Schwartzman as the precocious, ambitious and belligerent Rushmore Academy student Max Fischer, who has formed a single-minded obsession with Olivia Williams' Rosemary Cross, a teacher at the school who also gets involved with Bill Murray's disillusioned industrialist Herman Blume.  However, when Luke Wilson's Dr. Peter Flynn seems to be a threat for her affections, Max goes hilariously overboard in making him feel unwelcome. 
---
4. "Rushmore" – The Battle of Wills
Although Max admires Blume initially, when he realizes they are both competing for the affections of a rather uncomfortable Rosemary, their friendship degenerates into an enmity rather quickly, and a battle of wills, pranks and skullduggery ensues. It involves bees. 
---
5. "The Royal Tenenbaums" – Margot's History
2001 saw Anderson returning with this ensemble dramedy about a fairly messed up family, thanks to the reckless self-interest of their patriarch, Royal (Gene Hackman), who is now trying to make amends.  However, such damage is not so easily undone, as we see when his adopted daughter Margot (Gwyneth Paltrow) has her ridiculously sordid past revealed when both her husband Raleigh St. Clair (Bill Murray) and her pseudo-brother and secret crush Richie (Luke Wilson) hire a private eye to dig up the dirt. Murray's response makes it work.