Take Portlandia Season Two Home Today On Blu-ray and DVD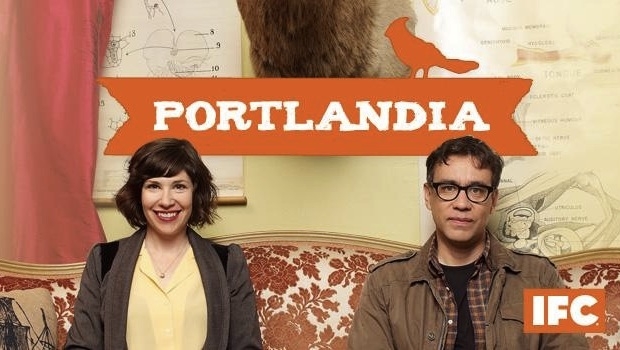 Posted by Melissa Locker on
Aw remember the glory of Portlandia's second season? It started with a mixed drink that Andy Samberg made for Carrie Brownstein. He made her a mixed drink, so he made her a mixed tape. Unfortunately he had moved to California and only Carrie and Fred Armisen could save him and bring him back to Portlandia where he belongs. Then it ended with Fred and Carrie waiting in line for brunch, waiting for Mayor Kyle Maclachlan to kayak his way over, and Tim Robbins meting out judgment to line skippers (we're looking at you Nance) and Ed Begley Jr. just wants people to try his diner and Candace and Toni are mad about people blocking the door to Women and Women First and, man, is it hard to get marionberry pancakes in this town. Those were good times.
Now you can relive all your favorite moments whenever you want however often you want because Portlandia's second season is now available on DVD and Blu-ray. The DVD and Blu-ray is packed with more bonus features than a bike mover can transport in a day. Along with all the episodes from season two the discs come with commentary from Fred, Carrie and director Jonathan Krisel over four episodes. Plus, you'll also get behind-the-scenes footage and highlights from Portlandia: The Tour and a peek at the making of the show as well as deleted scenes. Also on the Blu ray/DVD are two specials, both "The Brunch Village: Director's Cut" and an "Introduction to Portlandia." Go buy them for everyone you know and love today!
Want the latest news from Portlandia? Like them on Facebook and follow them on Twitter@ifcPortlandia and use the hashtag #portlandia.
Portlandia returns to IFC in January 2013